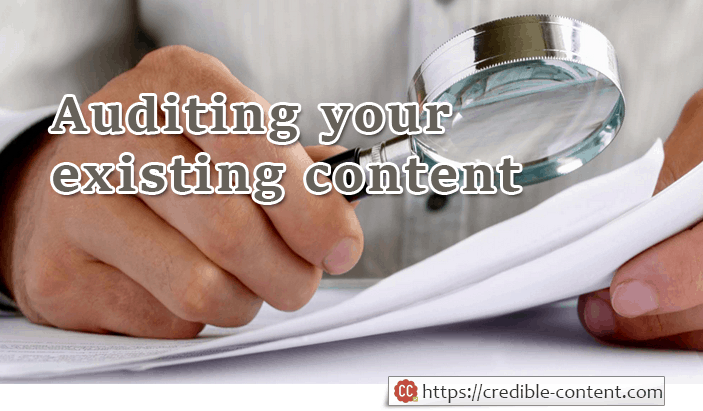 Content auditing means going through your existing content and streamlining it according to your content marketing needs. You have been publishing a business blog for many years now, right? Even if not a blog, you must have created many webpages for your business website in order to describe your various products and services. You have your homepage. Then there is a company profile. Even an FAQs section. You may also have the testimonials page. And maybe many more pages talking about various aspects of your business and the sort of projects you have undertaken. The basic point is, there might be lots of existing content that needs to be revamped. Content auditing means creating a list of things that you need to do in order to bring your existing content up to the mark.
Is content auditing needed for every website and blog?

It depends. If you have always been careful about your content then perhaps you don't need content auditing. The need arises when you have been creating content without paying much attention to exactly what you are trying to achieve, what sort of audience you are trying to target and what sort of results you are striving for.
If you take your content marketing seriously it doesn't matter whether you have 5 pages, 50 pages or 500 pages, you need content auditing. Unless you have audited your existing content, you cannot claim to be taking your content marketing seriously.
Is there a precondition to auditing your content?

Totally understanding your content marketing is a precondition to auditing your existing content. For this purpose, documenting your content marketing strategy is of extreme importance because once you have started documenting your thoughts you know
What sort of audience you're going to target
What sort of content you're going to produce and distribute in order to target that particular audience
Which content distribution channels you're going to use
Once you know what sort of content you need in order to make your content marketing effective you know what changes to carry out in your existing content.
What is the procedure of carrying out a basic content audit of your website?

What you need:
Google Analytics
A Spreadsheet Tool (Microsoft Excel, Google Docs or Zoho)
Although you can do content auditing on your website without using any tools but if you have got many pages and blog posts, using tools definitely helps and it also gives you a sense of things that need to be done. You can begin with Google Analytics. Of course if I suggest Google Analytics I assume that you have been using its tracking script on your website for some time and there is sufficient data in your Google Analytics dashboard to give you a picture of what sort of traffic your website is getting. What if you don't use Google Analytics? Install the script onto your website and let it gather some data for at least a month.
Assuming you have some data in your Google Analytics account, go to the website that you need to audit (in case you are tracking multiple websites from your account). On the left hand side you need to go to the following section:
This will give you a list of the page views of all the pages. If your pages are arranged in descending order you will be able to see which pages are getting the maximum traffic on your website. These are the pages that you need to audit first.
In the "Page" column click the pop-up window link:

The page will open in a new window from where you can get the URL and then copy/paste the URL in the Excel sheet.
This way, one by one, you can transfer all the URLs to the Excel sheet. Mind you, if you have many URLs it may take lots of time so if possible, get someone else involved.
Once you have transferred all the URLs to your Excel sheet, you can start auditing them one by one. Again, it makes sense to audit the content of those pages that get the maximum page views.
Here are a few things you can change while auditing individual webpages and blog posts:
The web page title: Your web page title should preferably contain your primary keywords and it should be within the recommended length. For example the Yoast SEO plug-in suggest that your title should not contain more than 70 characters. Remember that it is your web page title or your blog post title that people see appearing as a hyperlink on search engine result pages and even on social networking websites updates. Make your web page title compelling enough.
The web page description: The description of your web page must be around 157 characters. Try to include your main keywords in the beginning of the description but make your description, logically, is as descriptive as possible.
The body text: Is your body text over-optimized? Is it under-optimized? Is there too little text on the web page or blog post? Can you include more links to other pages? Can you create more sections? Can you describe your products or services in a better manner? Is your content badly written? Are there typos, spelling mistakes in grammar mistakes?
The use of keywords: No matter what people say, the keywords still matter. So keep your list of keywords nearby while auditing your content. Make sure that your primary and secondary keywords are used in the body text strategically. Create multiple sections under headings and subheadings and make sure that these headings and subheadings contain your keywords. Create bulleted lists and make sure that these bulleted lists contain your keywords (at least a couple of times). Use your keywords in the hyperlinks. Make sure you don't over-use your keywords. The most important thing is readability and quality of your content.
Alt tags for your images: Alt tags are very important – to make your website and blog more accessible to people with visual impairments, and also to tell search engines what these images contain. If you have omitted including alt tags with your images, now is the right time to go through all the images and add alt tags, while you are auditing your content.
Interlinking of webpages and blog posts: Interlinking means linking to webpages and blog posts that add more value and description to your existing web page or blog post. Suppose I'm writing this about content auditing. Above, I have mentioned that in order to audit your content, you also need to document it. Recently I wrote a blog post on documenting your content marketing strategy, which is a totally different topic. So instead of explaining it again, I have simply hyperlinked to it. It is not just good for usability, it also directs the search engine crawlers to this link in case this link hasn't been crawled yet. When the search engine crawlers crawl your links they also crawl the links present on those links.
Auditing your existing content can be a lengthy process so be mentally prepared for it. It is not something that you can do in a day or two. If there are 100s of pages of content on your website or blog, you may need months to go through individual links and audit them. You may also need to hire external help. Go ahead, do it. Before you hire a content writer to write new content for you, it's better to hire someone to audit your existing content first.