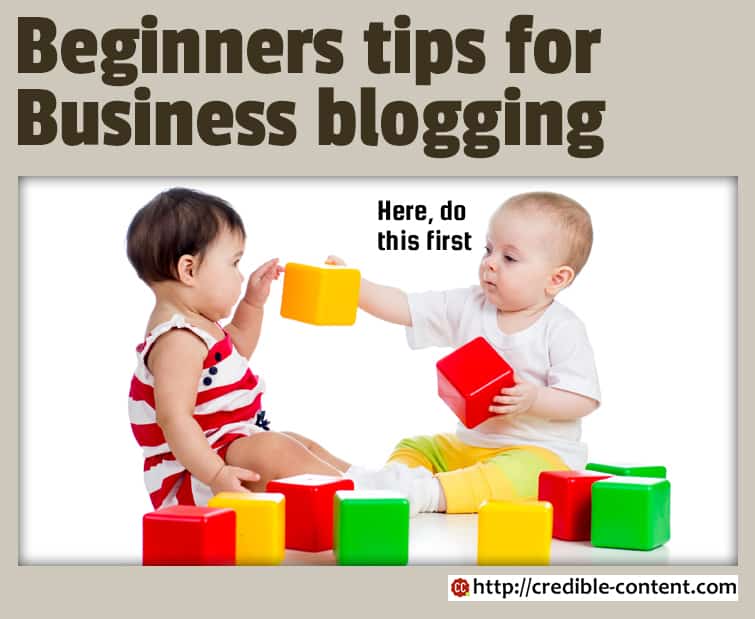 Recently someone asked on Quora what would be a better blogging platform: Blogger.com or WordPress? Frankly, I didn't realize that people are still using Blogger.com for personal and business blogging. So, it came to my mind, there might be many beginners who are looking for some good tips on how to set up a business blog and how to profit from it.
Almost every major business has a blog and it uses blogging to promote its brand, to engage with audience and to draw targeted traffic from search engines and social networking websites. Still, blogging isn't taken as seriously as a website, especially by the small business owners who haven't had much time to keep themselves updated of latest trends on the Internet.
Maybe because initially when blogging began, it was an amateur activity. It was mostly journalling. Then started political blogs. Web design blogs. Internet marketing blogs.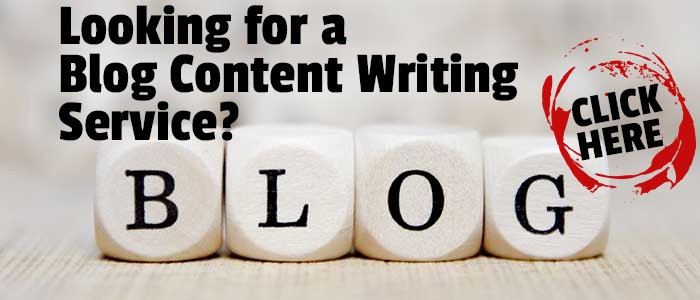 Business blogging began a lot later, though, even in early 2000's, I was promoting my business (web design and development) by publishing lots of web design-related web pages on my website. There existed is no concept of "blogging".
I don't remember if Blogger.com came first or Typepad.com (powered by Movabletype). Then came WordPress. From the beginning itself you could install WordPress on your website and start publishing a blog. Ever since then I have been using WordPress although these days I routinely publish on Medium too.
Why business blogging is necessary to grow your business on the web
Long gone are the days when blogging was considered an idle person's pastime. As I have written above, every serious business these days has a blog. Salesforce has a blog. New York Times has multiple blogs. Google has a blog. IBM has multiple blogs. Accenture has multiple blogs. Credible Content has a content writing and content marketing blog.
Every major business and publication on the web has a blog. Is it a fad, or is it a necessity? Or is it just an insatiable desire to reach out to your target audience?
Whether you are a beginner in the realm of business blogging or a seasoned professional, primarily there are 7 reasons why you might be publishing:
A business blog increases content density on your website.
As you cover various topics in your niche, your search engine rankings improve.
You are constantly feeding Google with new content to crawl, index and rank.
People regularly access your website or blog for the valuable content you provide.
You constantly have something new and original to post on social networking websites.
You give yourself and your employees opportunities to share their wisdom and expertise using your business blog.
Eventually, you develop a platform that is independent and doesn't have to rely on search engines and social networking websites for targeted traffic.
In 2013 New York Times published a negative review of Elon Musk's Tesla Model's S car. Elon Musk claimed that the review caused the company almost $100 million.
Musk used his own blog to respond. In the blog he was able to prove what New York Times published was "fake news" and the faults detailed in the New York Times article weren't actually faults. Consequently New York Times drew lots of flak from Tesla car enthusiasts.
You may say that Elon Musk is one of the most powerful individuals in the world and hence, people would pay attention to his blog.
But the point is, his website has a blog and hence, he has a platform that could be used to counter the New York Times article, the same New York Times that has a well-established publishing platform. In the absence of blogging, Elon Musk would have had to depend on another news publication to carry out his counter argument.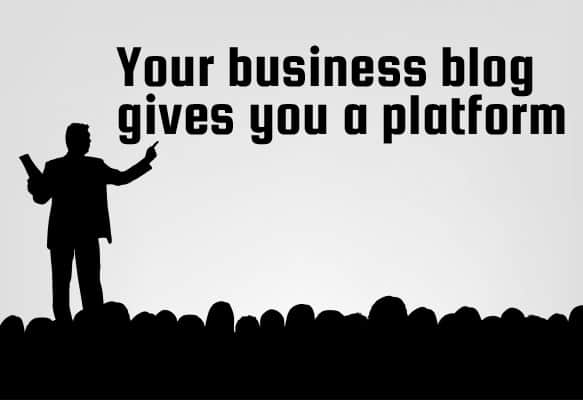 This is just one example of how you can use your business blogging platform to put across your own point in the time of bad PR, and many companies are already doing that.
But that's just one aspect of business blogging.
Business blogging is good for search engine rankings and creating buzz on social media and social networking websites. As mentioned above, when you start writing about your niche topics, you begin to cover all the important keywords and search terms on your blog. Business blogging is the strongest tool in the hands of small businesses.
Since you are continuously publishing your blog, Google's crawlers begin to crawl your website and blog frequently, even multiple times a day. This way, you not just have better search engine rankings, your latest content is also added to the Google index almost immediately.
Sometimes my blog posts and web pages begin to appear in search results within a minute of publishing.
Ready to publish your blog?
Know more about my blog content writing and consulting services.
Beginners tips for business blogging
Be ready to make a long-term commitment: Business blogging, or rather, any sort of blogging, but especially business blogging, is a long-term commitment. You can't have 10 blog posts and then be satisfied. Depending on your goals, you should publish a weekly blog post or a daily blog post. If you want to improve your search engine rankings and conversion rate within 3-4 months then I suggest you publish daily. Once you have started getting decent traffic, you can switch to alternative days and then, you can even go for once a week publishing schedule with high quality blog posts. But be ready for a long-term commitment.
Decide on a blogging platform: My recommendation is always WordPress because when you use WordPress (WordPress.org), though, it has a learning curve in the beginning, you own your content. Everything is there on your website. Your own search engine rankings improve when you publish on your own blog. It is an uphill task to build an audience, but in the end, when you begin to get the results, you will realize that all that effort was worth it.
In the beginning, you can also focus on Medium: This, I wouldn't suggest for every other blogging platform, but Medium is a bit different. More than blogging, it's a publishing platform. It has a thriving audience and even when you haven't published many blog posts, depending on your quality, any of your blog posts can be picked up and suddenly, you will have thousands of people reading your blog post.
Develop a unique voice: Your writing style for your business blogging should be conversational no matter how serious your niche is. Through your business blog, you are mostly having conversations with your audience. Write the way you speak. Since every person speaks differently, if you write the way you speak, your blog will carry a unique voice.
Write as a human being: Even on a business blog something like "we do this" and "we do that" doesn't sound very good and friendly. If you are a single person managing your business blog then it's very easy to write as that person, but if you have multiple employees writing for your blog, you can create their profiles so that they write blog posts as themselves rather than as a company. This way your audience can relate to the people writing your blogs, and it will feel connected.
Refrain from promoting your product or service on your business blog: This is because when people come to your blog, they are not interested in knowing about your product or service unless they want to read reviews. People are looking for information. They want their questions answered. If they have a problem, they want to solve that problem. It is best to create a list of questions and then create many blog posts providing answers to those questions. This will also give you an opportunity to use your keywords.
Don't over-use your keywords, but do use them: Business blogging is a great way of covering all your primary and longtail keywords, but don't make it too obvious. People can easily make out if you are providing useful information or simply covering your keywords. And anyway, when you are constantly providing solutions and answers to questions, you will be automatically covering your niche keywords, so, you don't have to walk an extra mile to use them.
Learn to market your business blog content: There was a time when it was very easy to find websites and blogs. With millions of websites and blogs being created every week, there is a lot to be found. This is where content marketing comes in. You have to market your business blog. You have to make sure that people are able to find it. The best way to market your blog is to create and maintain interactive social media and social networking profiles. Whenever you publish a new blog post on your business blog, share the link using your social media and social networking platforms.
Focus on networking and guest blogging to promote your business blog: This is something I need to do more but I don't, but I'm gradually inching towards that. Constantly publishing your business blog on your own eventually begins to get you enough traction, but the real boost you will get by networking with other, already established publishers and industry leaders who would occasionally promote your links on their own timelines and blogs. You can also offer to write blog posts for other publications to expand your presence. You will also need quality backlinks to improve your search engine rankings.
Let yourself loose sometimes: Although business blogging is primarily used to improve search engine rankings and engagement, especially by small business owners, you don't always have to strictly stick to your topics. Sometimes also share interesting and amusing pieces of information with your blog audience. You can share a funny joke. You can share a GIF that makes people laugh. Or maybe there is a video that is going viral and you can publish it with your own take. Don't dilute the focus of your blog by more regularly posting such material, but you can keep a 19-1 ratio of such posts with 19 of business-related content and 1 of simple entertainment.
Business blogging is a work of love, commitment and passion for your field. You can publish a business blog on an ongoing basis only when you have got lots to say.
If you think you won't be able to commit the required effort and time on your business blog, it is better to collaborate with the content writer or a content writing service like Credible Content. My content writers routinely provide high-quality content to business blogs from all over the world.
Do let me know if you are looking for a business blog content writer for your business and I will gladly provide you the needed information.