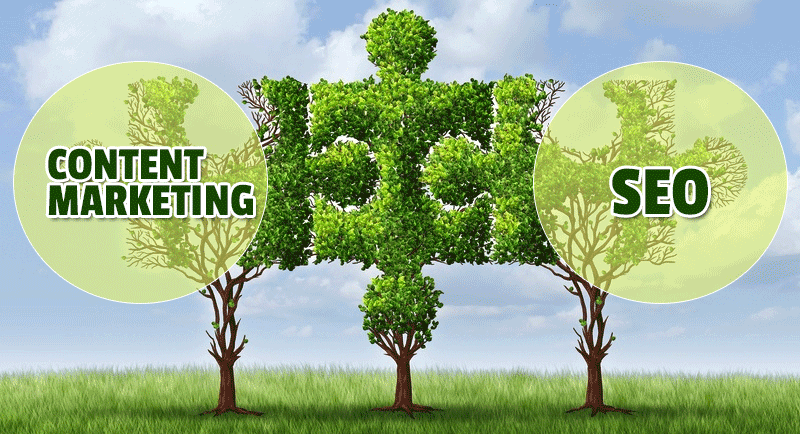 Content marketing and SEO are intertwined these days.
Ever since Google released the Panda and Penguin updates people have come to understand that SEO doesn't just mean using the right keywords while writing content.
Although keywords are important, they are not the sole factors in determining your search engine rankings, the way they used to be 10 odd years ago.
Somewhere along, Google realized that it had to crowdsource its ranking algorithms. Merely depending on the machines was open to exploitation.
Hence, social validation and acceptance of your content became as important as the way you used the keywords.
These days, your search engine rankings depend on
The overall quality of your content
The ease of reading
The number of people sharing your content on social media and social networking websites
The number of people linking to your website or individual links
The relevance of your content
The bounce rate on your website or blog
The number of times you update and refresh your content
Although Google (and other major search engines) don't let people know how actually the search engine ranking algorithms work, the above-mentioned attributes of your content can ensure an improved SEO.
As you can see, a big part of your search engine rankings depends on how people perceive your content.
Google has incorporated these attributes because even if you can use black hat SEO tactics to trick the machines, it is practically impossible to trick humans.
Therefore, SEO these days depends a lot on content marketing.
Why SEO and content marketing are interconnected
The basic nature of content marketing is, publishing high-quality content and then making sure that people who need to access that content, can easily access it.
Read Can content marketing improve your SEO?
Once you have published high-quality content and made it easy for people to access it, since people these days love to share content on social media and social networking websites, they start sharing your content too.
The beauty of this is, they won't share your content if they don't find it useful.
If they don't like your content, your content will not earn social validation.
You may find it nagging that you always have to publish and then distribute high-quality content for better SEO, but look at it logically…very few business owners can publish content that can earn social validation.
If you can improve your SEO with better content marketing, it creates a level-playing field for everyone.
People cannot force their way into better search engine rankings simply because they can spend more money.
SEO these days is not about quantity.
It's about quality.
And quality comes with knowledge, wisdom, experience, and a strong desire to keep your prospective customers informed and educated.
Well-executed content marketing automatically improves your search engine rankings.
As mentioned above, content marketing can succeed only when you publish valuable content, content that people appreciate.
When you focus on your core topic, you are naturally creating content around your keywords.
Content marketing means providing compelling content on an ongoing basis.
The more you refine your content marketing the better focused you are when publishing useful content.
Being better focused means, focusing on the right questions and the right answers.
Content marketing also means making your content available on all possible distribution channels, which means more people can access your content.
When people can access your content there is a greater possibility of them sharing your content and linking to it from their own websites and blogs.
So, all the steps that you follow to execute a good content marketing strategy, are also the steps needed to improve your SEO.
Better SEO means publishing relevant content in as friendly a manner as possible.
Better SEO also means a greater number of people responding to your content and linking to it.
Consequently, better content marketing means improved SEO.