As the 2017 year-end approaches more and more digital marketing companies and content marketing experts will start coming up with their 2018 content marketing trends and predictions. Making a list of trends and predictions gives you an opportunity to show that you have your finger on the pulse of the latest developments in your area of expertise.
Neil Patel has just published his own take on the content marketing trends for 2018. As usual his post brims with valuable data and data graphics.
So, what is the year 2018 going to bring for content marketing? What changes are we going to experience? Is business perception of content marketing going to change? Will people eagerly invest more money in it?
Neil begins by quoting Content Marketing Institute that companies who have been investing in content marketing for years are finally reaping the benefits. This will certainly have a positive impact in the coming years.
According to this source, 60% B2B marketers believe that their content marketing strategies in 2017 have been more effective than the previous year. Every year content marketers are getting better results (experience can be a big contributing factor) and this trend may continue in 2018. The experience gained in the current year becomes useful in the coming year.
The graph given below explains to an extent why B2B content marketing success rate has been improving year after year: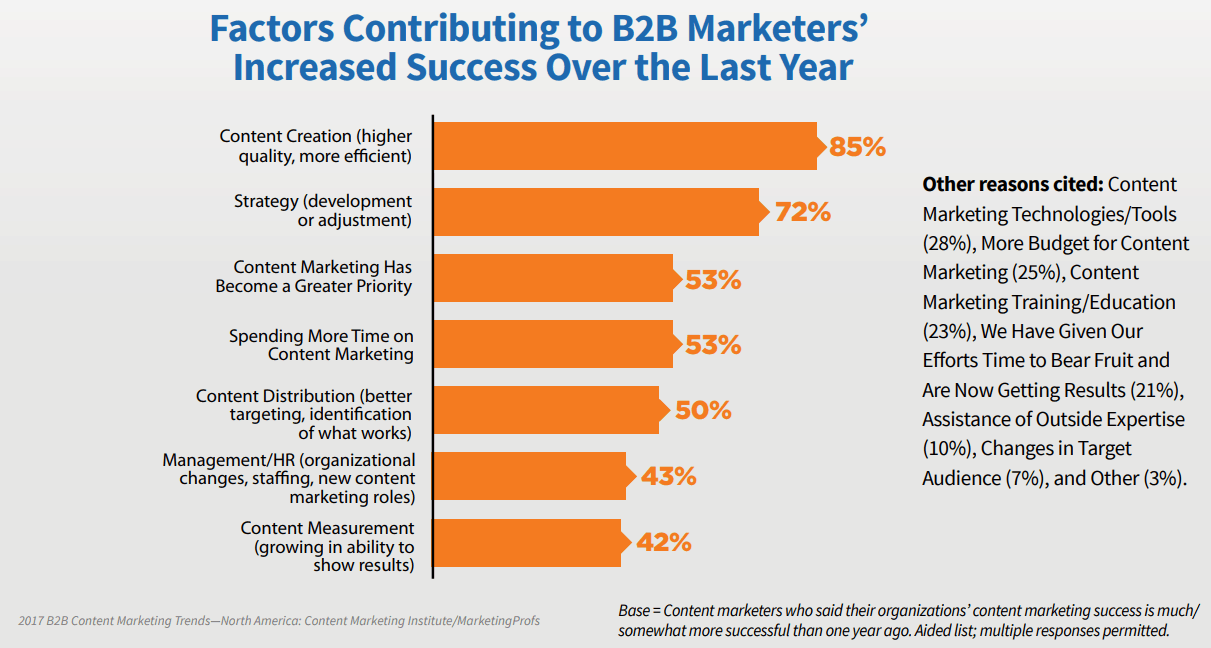 As usual, Neil's post is quite comprehensive, so, here I will briefly describe his take on the emerging trends in content marketing for 2018.
Single or a select few content formats are not going to work from 2018 onwards
Content these days is being created and published with multiple formats. Consequently, your content team needs to be adaptive and multi-talented. A typical content marketing team may have to handle jobs like
Video production and editing
Graphic design, illustration, and editing
Audio editing and production skills
Content optimization across multiple formats
Content distribution and promotion
Content marketing strategy, execution and campaign management
Communications and branding
Advertising and media buying
Analytics, metrics and reporting
Also add search engine optimization
Frankly, I think even presently content marketing teams have to take care of all these jobs.
But yes, as content marketing continues to evolve into its own entity, it is going to have its own, dedicated ecosystem of various formats and activities to bring a multifaceted approach to the table.
Just writing blog posts and publishing them is no longer going to work.
Having said that, writers are going to have the last word. Ultimately, it's the message that counts.
Content marketers, in their zeal to present a very dynamic form of content marketing, somehow end up discounting the importance of content writers. This is not so. No matter how many formats you can handle, unless the message is convincing, no format is going to help you.
Content marketing for Internet of Things
Your content is going to be accessed using multiple devices and some of these devices may not even have a screen to show your content.
Take for example a device called Amazon Echo using a voice interface called Alexa. In Amazon Echo, everything is voice. The device just sits there in the corner and you have to speak to it and it provides you all the answers it can find. Want some recipe? Just ask Alexa and it is going to give it to you. Want to know the location of the nearest auto repair shop? You get it.
Soon a day may come when people's refrigerators will be interacting with your content. You will need to carry out your content marketing in 2018 and the coming years keeping that in mind.
Transparency and trustworthiness is going to rule the roost
This trend has been going on for many years. Exactly this is why content marketing caught on. There is lots of mistrust, most of it justified, on the Internet. This is because the entry cost is negligible, and even zero, on the Internet. People with no stakes at all can set up a business and start hoodwinking gullible customers.
This is why people trust opinions of people they know. A Facebook recommendation may be far better than an advertisement for your brand.
Through your content marketing you need to make people trust you and this can be achieved by publishing relevant, useful and engaging content across multiple platforms.
Targeted content for your sales funnel
Since content marketing is totally going to take over your entire buying and selling process, you will need to create and distribute content to cater to different stages and phases of your sales funnel.
For more explanation on this, you may like to read Importance of content writing throughout the sales funnel.
Content from different media may need to converge to give you a consolidated presence
Normally a medium-sized company and a big company may have the following forms of content in their content marketing kitty:
Owned media
Paid media
Earned media
Content marketing in the coming years, including 2018, will need to be a well-balanced combination of all forms of media.
Further reading on this Main difference between paid, owned and earned content.
The undiminished importance of content marketing documentation
Most of the businesses that claim that content marketing doesn't work for them, don't have a documented content marketing strategy.
Documentation gives you the direction. It keeps you focused. It helps you set goals and then pursue those goals.
Read What do you mean by documented content marketing strategy?
Live video and interactive visual content are the other two developments that are going to gain prominence according to the 2018 content marketing trends being mentioned on various websites.
Distribution is a big part of content marketing
In 2018, it is being predicted, that a greater number of content marketers will realize the importance of distribution.
No matter how great your content is, unless you make it easier for people to find it, to come across it at the crucial moment, it doesn't benefit you much.
Often, people confuse content marketing with relentlessly publishing content on their own websites and blogs and then occasionally sharing the links from their social networking profiles.
One needs to develop a system to make sure that you are able to disseminate or distribute your quality content. A big part of content marketing is, marketing your content.
So, these are the 9 content marketing trends for 2018 published by Neil Patel.
You may also like to read 5 content marketing trends in 2018, according to Salesforce.