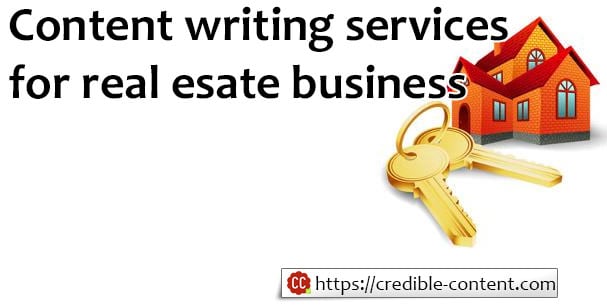 I routinely provide content writing services to real estate business industry as they greatly depend on their website to get more leads and educate their clients. Whether people want to buy or sell real estate or rent (or rent out) property, the first thing they do is check out either the online directory for real estate properties or visit the website of their favorite realtor or what the commonly say in India the property dealer (although people in India are wary of property dealers for obvious reasons 🙂 ).
What sort of content writing services do I provide to real estate businesses?

Real estate business content doesn't just involve writing and publishing listings of the properties. There are zillions of websites doing that. How do you get an edge and show up at the right places in the search engine result pages? I'm not saying that my content writing services will suddenly improve your search engine rankings in the real estate business section (I'm not even saying that they won't). Your search engine rankings depend on the sort of competition you face in your realm.
Real estate business is a highly competitive field. Every real estate business these days has a website and as you can see on Google, the first spots are crowded. Primary keywords are all taken up. So how do you make a beginning? This is where my content writing services can help you.
I can help you figure out how to target less competitive keywords so that you immediately start getting traffic for those keywords. I will help you narrow down your content to something very unique, something only you, or very few people in the real estate business, provide. This way your content will be vertically focused and hence, more competitive.
Do you actually need content writing services for your real estate business?

Since most of the real estate websites mostly have listings of houses, commercial properties, condominiums and residential complexes, you must wonder, why do you need content writing services for that? Can't you simply make one of your secretaries write all the descriptions and other details of your various properties? Yes, you can do that. Thousands of other real estate businesses are also doing that, so yes, you can do that. Some real estate businesses have thousands of listings so they obviously have more content than you have. Some are multi-million-dollar businesses so they have all the needed manpower to create tons of content in-house. If that is your case, sure, you don't need content writing services.
You need content writing services and if you're not a very big real estate business and yet you want to not just improve your search engine rankings but also build relationships with your prospective as well as current clients (never underestimate the power of clients who have already bought or sold properties through you). You want to establish a personal connection. How do you do that? By regularly keeping in touch with people who would one day like to use your services. If you constantly send them listings, since currently they may not be interested in buying and selling properties, they may ignore your emails or other updates. Then one day, since they are totally oblivious to your existence, if they need to buy or sell a property, or if someone they know needs to buy or sell a property, they may go to someone else because they have totally forgotten about you.
Through my content writing services you can constantly keep your current and prospective clients engaged by giving them informative content that doesn't bore them. I will keep a close watch on your industry and the parameters that may directly or indirectly affect your industry, and then provide content your clients may find interesting and useful. They need market information. They need information about the environment in which they may sell or buy properties. They need information about the socio-economy conditions that may affect the prices of the properties they intend to buy or sell. If you hire my content writing services you don't have to waste time scouring through various topics on the Internet. You can send me a rough idea and accordingly I will create first-class content for your audience.