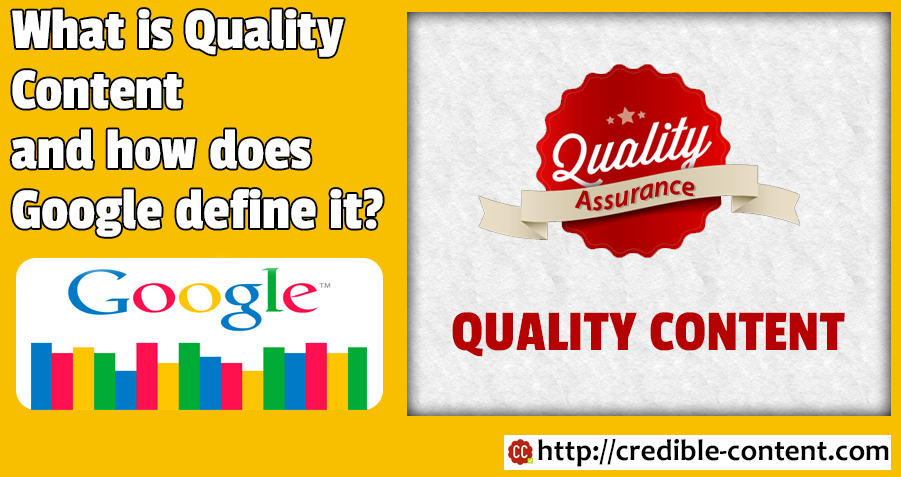 If you want to enjoy good search engine rankings you need to understand how Google defines or recognizes quality content.
Since the Penguin and Panda updates Google has been putting more and more stress on quality content. All its ranking algorithms are focused towards crawling, indexing and ranking as much quality content existing on the Internet as possible.
Read 20 Evergreen characteristics of quality content
In order to understand what is quality content and how Google defines or recognizes it, you first need to define for yourself what is quality content.
For me, the definition of quality content is quite straightforward:
Well-written content
Content that educates and informs
Content that does not mislead
Content that delivers on the promise of the page title or the headline
And in terms of copywriting, contend that improves your conversion rate
These are the basic definitions of what is quality content and these definitions don't change no matter what the format of your content is. Whether you are publishing text, images or videos, the underlying purpose is to provide quality content that delivers value, whatever that value is, to your particular audience.
Read Why quality content writing matters and how to maintain quality
Why should you bother how Google defines or recognizes quality content?
Although there are multiple search engines in the world Google sends you the most traffic. So, this is why it matters to you how Google defines or recognizes quality content and then ranks your content accordingly.
As you can see in the chart below, almost 90% of the search market is dominated by Google whereas other "major" search engines like Bing, Yahoo! and even Baidu, have more or less remained at the bottom.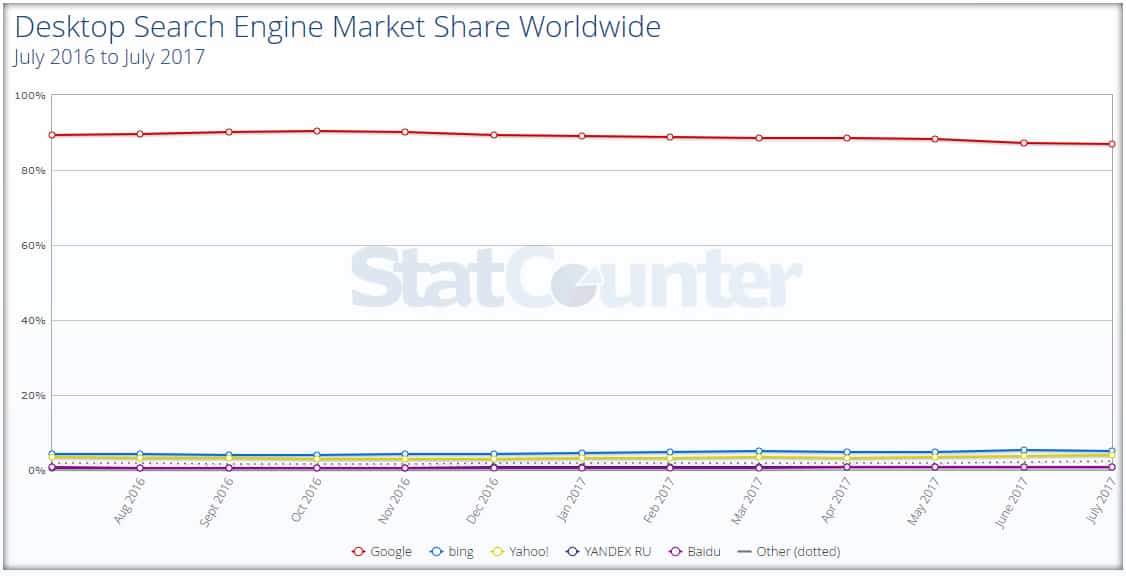 But carefully note the red line representing Google at the top. If you notice, there is a slight downward slant. Although it is still miles ahead of its competitors, it is losing market. Since most of its revenue comes from search advertising, even a small drop in the share of search traffic means a lot to Google.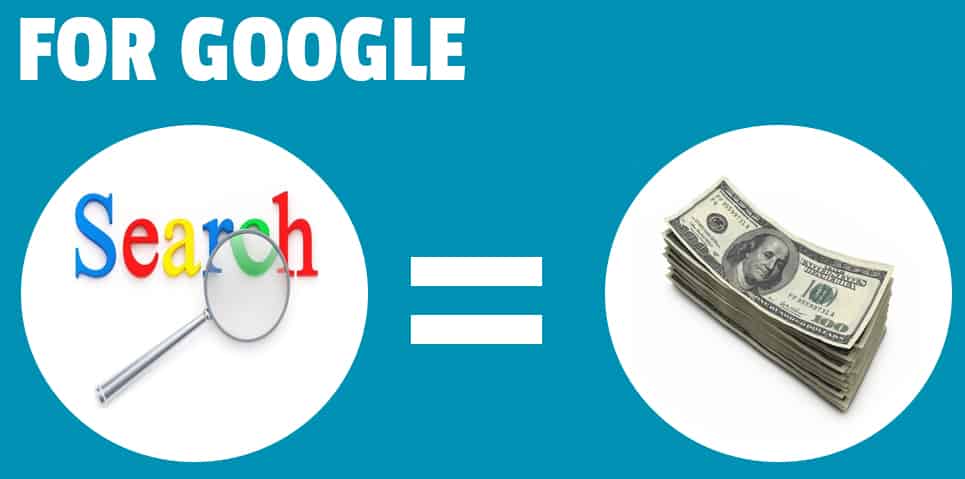 So there are two reasons why you should bother how Google defines quality content:
Most of your search traffic comes from Google
Google would tenaciously like to hold onto its market dominance by continuing to provide quality content through searches
If Google is unable to find quality content – no matter how it defines it – people will move on to other search engines.
Give Google quality content and Google will rank your website or blog higher
This is not completely true, but it is indisputable that Google will only rank you higher if you have quality content on your website or blog. I have personally experienced that quality content alone doesn't help you much unless you have tons of it. There are many other factors that affect your ranks including:
The quality of your content, of course
The frequency with which you publish content (the greater the frequency, the better the rankings)
The quantity of quality content that you already have
The age of your domain
The keywords and search terms that you use in the title tag and the headlines
The number of authority websites linking to your content
The social validation your content gets (how many people share your content on social networking websites)
The popularity of your content
A cocktail of these reasons gives you better search engine rankings but all these reasons originate from the fact that you need to have quality content.
Read How to strike a balance between SEO and quality content writing
If you don't have quality content nobody is going to bother about it and if they don't bother about it, they won't share it, they won't link to it and your content won't get validation. Without getting social validation, it is very difficult to enjoy good search engine rankings no matter how much quality content you have (although it does have some benefits).
In fact, Google wants quality content so much that it has even created a tutorial on how you can create quality, valuable content.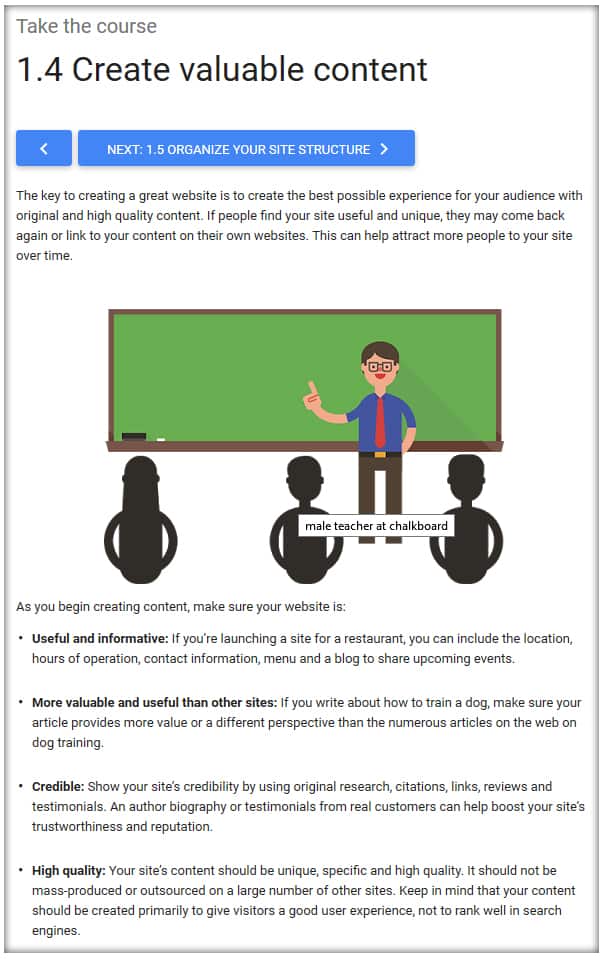 How does Google define quality content and then ranks it accordingly?
To understand how Google defines quality content, again, you need to understand why Google craves for quality content and not for every type of content irrespective of what its quality is.
Why do you use Google and not another search engine? There might be two reasons:
You are not aware of the existence of any other search engine
You believe that Google gives you the best results for your searches
It's the second reason that keeps Google hungry for quality content. Whenever you do a search on Google, Google wants to find you the best results. If it doesn't find you the best results, gradually some other search engine will, and you will move on to that search engine.
This is why among the most brilliant minds on earth working at Google are constantly creating algorithms to find quality content on the Internet.
Now that we know why you need to bother with how Google defines or recognizes quality content and why Google craves quality content, we can come to the topic of how Google defines quality content.
Listed below are the examples of inferior content, according to Google:

Scrapped content
Thin content (Read What is thin content according to Google? Does it harm your SEO?)
Doorway pages
Pages and blog posts senselessly stuffed with your keywords
Webpages and blog posts solely created to draw traffic with no value
Content containing hidden text or links
Cloaking
Automatically generated text strings
Content lifted as it is from other websites and blogs
The folks at Google dislike inferior content or low-quality content so much that they penalize your website by lowering its rankings or worse, completely removing your links from its index.
You may also like to read quality content guidelines straightaway from Google.
Listed below are a few factors that Google uses to define quality content:

Write content for your users not merely for search engines.
Provide information people are actually looking for – don't mislead people by deceptive titles.
If possible write expert-level content. According to this Search Engine Journal blog post, Google's human raters as well as algorithms can distinguish between content written by an amateur and content written by a pro.
Become a resource. Link to high quality content from other websites and blogs. Cite reputed publications like the New York Times and Time whenever possible. When you come across quality content on other websites, refer to it from your own website.
Publish fresh content as much as possible. Google is ravenous about fresh content. It crawls your website or blog repeatedly, sometimes multiple times a day to check whether you have published something new. Though, publishing with great frequency doesn't mean you compromise on quality content. Publish less, but definitely stick to quality.
Abundantly use images and videos. It enhances your presentation and it has been observed that the top 10 ranked sites in Google search results normally have around 6-8 images.
Deliver what you promise in your web page title. Misleading titles attract penalty from Google. Your page title and content should always match.
Create lengthy posts and webpages. Since it is difficult to create long content, and if you are publishing lots of long content, the Google algorithm assumes that you are publishing quality content. Longer blog posts and articles also tend to have lots of information and useful images.
These are the factors using which Google defines quality content. These factors may not play a crucial role all the time at the same time, a majority of these factors are considered when Google tries to assess whether you are publishing quality content or not.