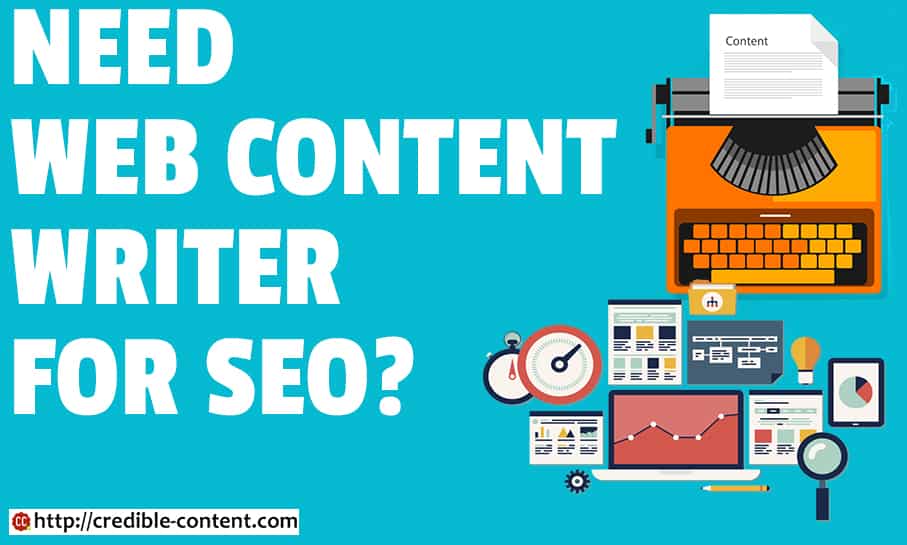 Looking for an SEO content writer to improve your search engine rankings?
SEO content writing normally doesn't enjoy good reputation.
The problem is not with SEO content, the problem is with the attitude with which this content is written and published.
I will explain why.
How content writing improves your SEO
Content writing is at the core of your search engine rankings.
If your written text is not up to the mark, your search engine rankings are going to suffer.
This is why, it is extremely important that when you are looking for an SEO content writer, you look for someone who isn't just a good writer, but someone who also understands why good writing is important for SEO.
Writing is easy.
SEO content writing is difficult.

Although your search engine rankings depend 90% on the content that has been written for your website or blog, there are various aspects of your content that impact your SEO from multiple angles.
Quality and relevance are important because they decide how your visitors are going to react towards your content and their reaction in turn have a direct bearing on your rankings.
Readability matters because if the search engine algorithm cannot understand what you're trying to communicate through your writing, it will be unable to rank your content.
This is why, express one idea in one sentence and try to have one sentence in every paragraph.
Have a line break after every sentence.
Then comes the use of keywords.
When writing your content, both your primary keywords and LSI keywords are important.
You should have a separate strategy for your longtail keywords.
Your content must be interlinked with other important pages and blog posts within your domain.
Your title and description are very important because they appear in the search engine listings.
You need an SEO content writer who can combine all these factors when writing content for you and at the same time, come up with compelling writing to keep your visitors hooked and interested.
Hence,
Quality
Relevance
Keyword-centricity
Readability
Inclusion of longtail and LSI keywords
Title and description
All these factors collectively act towards improving your search engine rankings.
As a side note, these are on-site factors.
The age of your domain and the number of quality back links also affect your search engine rankings.
Nonetheless, while looking for an SEO content writer, make sure that he or she can write your content the way search engines as well as human visitors find it appealing.

Another reason why content writing improves your SEO is when you have lots of quality content, people have a reason to link to you.
Quality content automatically improves your search engine rankings and this in turn makes it easier for people to find you on Google and other search engines, and this in turn, allows them to send more backlinks to you.
It's a self-fulfilling circle, actually.
I have observed when I publish more content it increases my search engine visibility and suddenly, I'm approached by guest bloggers who want to publish their blog posts on my blog, getting me more content, giving my SEO a further boost.
Need a content writer who can deliver high-quality SEO content writing?
Do you need an SEO content writer for your business who can deliver high-quality content?
In case yes, when I write SEO content for you, I will take care of the following:
Well written, professional writing.
Writing style according to your audience.
Unique content.
Optimized for your keywords and search terms.
Conversational and engaging writing.
I advise that you contact me only if you understand the importance of high-quality content – that's the keyword.

But first, context for this web page write-up.
For the past week I have been writing SEO content for a mobile app company.
The client was looking for an SEO content writer to improve search engine rankings.
He also knows the importance of good writing.
He doesn't mind paying for good writing.
Difficult to get such clients.
I never compromise on quality, no matter what type of content I am writing.
Even when the client is just bothered about publishing lots of content to improve search engine rankings and doesn't care much about the quality of the content as long as the language is error-free, I write the way I write, without any hint of condescension or lower quality.
So, I thought, well, why shouldn't I let it be known by writing this web page?
Whether I'm writing main webpage content, informative blog posts or the so-called SEO content, I never compromise on quality.
This is because the fundamental strength of your content writing must always be its quality and relevance.
Visitors should access your content for the value it delivers rather than the quantity of content that you have.
The client had asked me to prepare 11 documents and today when I was sending him the last document, I had a sense of satisfaction.

I not only sent him 11 documents in a week, I also liked what I had written.
I pay attention to every word, every sentence, every paragraph.
Just because the client doesn't know English better and just because even the audience doesn't mind a few spelling and grammar mistakes, it doesn't mean, I compromise on quality.
After all, I am writing what will eventually be published.
Nobody will know who has written it, but I will.
As an experienced and self-respecting content writer, I must have a sense of satisfaction when I send the document.
I must have pride in the fact that the client paid me good money and in exchange I delivered good writing.
What makes quality search engine optimized content writing?
As an experienced content writer who is well-versed in writing, I don't like to talk about typos, plagiarism and grammar mistakes.
In fact, when some clients specify that these attributes shouldn't exist in my writing when I am writing for them, I feel offended, though, I know they are just being cautious because they don't know me yet.

So, when I talk about high-quality SEO content writing, I mean the style, the way of writing, the way of expressing. The way of engagement.
In case you cannot read the above image, it says "High-quality SEO content writing involves":
Writing free of spelling and grammar mistakes.
Keywords in your title and description.
Keywords within the first 100 words.
Relevance, value and topicality.
Keywords after every 200-300 words.
Simple, straightforward sentences.
Scannable text with headings and subheadings.

Along with this, a comprehensive list of all the search terms must be kept in front of  the person writing your content.
These keywords should be scattered all over your web page or blog post.
LSI stands for "Latent Semantic Indexing" – Google analyses your content even for related keywords so that a larger group of people can be accommodated.
People may not use the same phrase.
They may not even use the same keywords were looking for the same information.
LSI keywords also help you avoid overusing your primary and secondary keywords.
The best way of handling your keywords is that you do a thorough keyword research and compile a list of all possible keywords that you may like to target when writing content.
When I'm writing content for my clients, my primary focus is on quality.
Through years of practice I can easily accommodate keywords even during the first draft but otherwise, if the topic is a bit challenging, I write it first from the perspective of delivering high-value.
Only when I am satisfied with its quality I start looking for SEO content writing opportunities as an experienced SEO content writer.
Search engine traffic doesn't matter much if you need to convince people to become your customers and clients.
In the case of the mobile app for which I was writing SEO content, it didn't matter to the developers because all they want is, that people should land on their website instead of someone else's website.
They know that once a person looking for that specific mobile app comes to their website, he or she has no reason to go to another website because it doesn't make a big difference from where this particular mobile app is downloaded.
They don't want to convince people. People are already convinced.
But are they, in your case?
Higher search engine rankings without being able to convince people to at least stay on your website for some time neither increases your sales nor sustains your search engine rankings.
When you write convincingly and engagingly, people go through the entire text. This is because you are providing them the information they are looking for. This is one thing.
The other thing is, your visitors must feel as if someone is talking to them when they are reading information on your website. This is the most important aspect of writing content. Also, more challenging.
If your SEO content writing can talk to your visitors, I call it high-quality SEO content writing.
I believe that every web page and every blog post is a conversion opportunity and hence, every piece of content must be written keeping that in mind.
Looking for an SEO content writing service or need an SEO content writer?