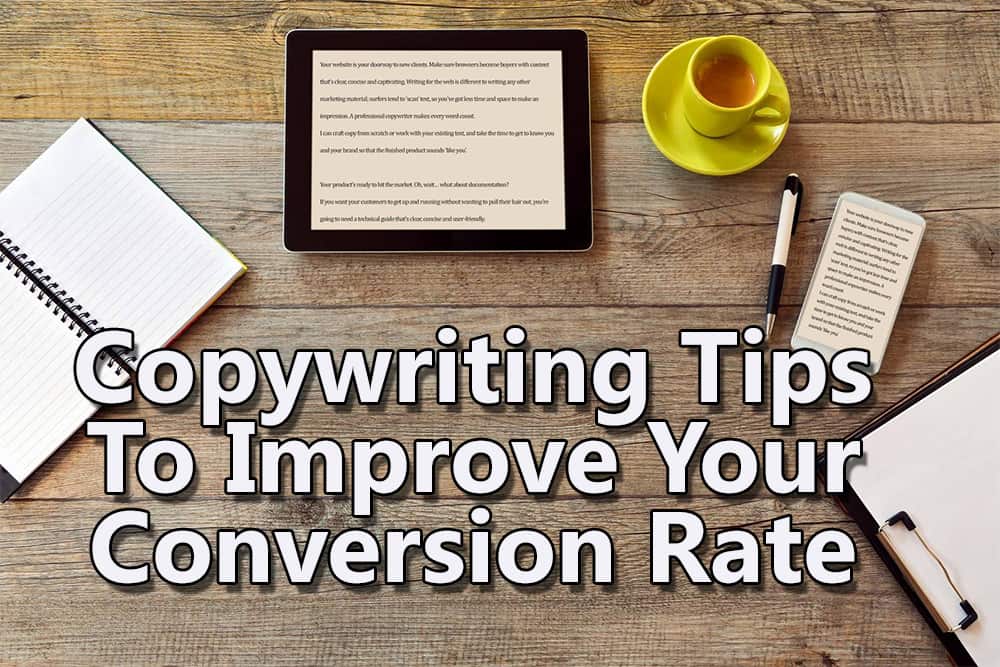 Being a writer before being a content writer, my every piece of writing has an ample sprinkling of copywriting. Wondering what's the difference between content writing and copywriting? Read: Difference between copywriting and content writing.
Now that I'm writing this, it comes to my mind that for a very long time, in fact, since years, I have not shared any tips on copywriting. There was a time when copywriting used to be one of my main services and I even used to rank quite well for "freelance copywriter". Then I got distracted and my focus shifted to other activities.
In the coming days I will be refocusing on copywriting, especially sharing my insights and tips to help you improve your conversion rate.
Copywriting, as you will be able to read in the above-linked blog post, has more to do with selling. Through copywriting you are constantly trying to convince your visitors to do business with you.
With content writing you inform and engage, but it's with copywriting that you eventually turn casual visitors into paying customers and clients.
Here is a good example of copywriting explained by Brian Clark of Copyblogger Media: The Greatest Sales Letter of All Time.
The above-mentioned sales letter was written for The Wall Street Journal and it has generated an estimated revenue of $2 billion for the publication. This timeless template is repeatedly used by advertising agencies to create a contrast between people who do and people who don't.
Why knowing some copywriting tips is important for improving your website conversion rate
As I have explained multiple times on my website and blog, you need to convince your customers and clients. They are not just going to do business with you simply because you have a website and you have your products and services listed.
Copywriting convinces them. In fact, although, content writing improves your conversion rate in the long run, it's copywriting that tips the balance in your favour and improves your conversion rate in the short-term, in a sense of immediacy.
Although all my clients hire me as a content writer (it's because I promote myself as a content writer), aside from giving them great content, they also want my content to convince their customers and clients.
Intentionally or unintentionally, they overlook the fact that basically they are asking for copywriting (so, I should be charging more). Anyway, that's another issue.
Are there well-defined copywriting tips that definitely improve your conversion rate?
No, there are not. Tips and rules are never written in stone, especially where human psychology is involved. The same applies to copywriting tips. Your conversion rate may improve by applying some totally unorthodox copywriting tactics that no one has ever come across.
Tips and tools give you a template. They are often a list of dos and don'ts that you can keep in front of yourself so that you don't miss the important stuff and you don't include the needless stuff. Even small things can totally screw up your copywriting and send people away from your website. It's always better to know what works and what doesn't and what has worked wonders in previous campaigns.
The biggest challenge you face when creating copy is keeping people on your website and getting their attention for as long as possible.
In his recent detailed blog post on copywriting (his which blog post isn't detailed?), Neil Patel presents and explains 6 copywriting tips that can help you improve your conversion rate drastically.
A video accompanies the blog post. In the video Neil touches upon various aspects of copywriting that hook people to your website and encourages them to do business with you.
Although more than turning your visitors into customers he talks about keeping them on your website for as long as possible, in the long run it is more or less the same thing. The longer people stay on your website, the greater are the chances that they will buy from you.
I'm presenting below the gist of his copywriting tips that will not only make people stay longer on your website but may also help you improve your conversion rate. These tips and rules are not written in stone and they may vary from business to business, most of the advice is quite fundamental and you can easily use it on your website.
Answer all possible questions through your copywriting
Why won't people buy from you? Either they don't want to buy right now or they're not convinced that they should buy from you.
If they don't want to buy right now, maybe it's not the right time for them or they are not aware enough about your offer and what difference it can make to their lives.
For people who are not yet ready to buy from you or are not aware enough to buy right now, your content writing can keep them informed and educate them. For that, encourage them to subscribe to your updates so that you can keep in touch.
Copywriting is for those who want to buy, who know that there is a need, who also know what a difference this particular product or service can make, but they are undecided about buying from you.
It's the job of your copywriting to answer all their questions, the "why's" that stop them from buying from you.

Give them something to compare, something to contrast
Refer to the above The Wall Street Journal sales letter example. It compares two individuals: it presents a contrast between someone who reads WSJ and someone who doesn't. In the letter, you can make out who benefits and who doesn't, by a single decision.
In your sales copy you can also create a contrast: what happens if the visitor doesn't buy from you and what happens if he or she does.
The standard formula works always… a person is facing a problem and you are offering an irresistible solution.
Back your solution with facts. Don't just make wild claims. Give some proofs. Use some hard numbers.
Neil refers to the "4 Ps" of copywriting:
Problem, Promise, Proof, Proposal.
Make your copywriting compelling by the power of words
Being a writer, I know the power of words. Words can trigger revolutions. Words can change destinies.
There is a reason why some seasoned copywriters charge thousands of dollars for a single copy.
The message is very important, but how you deliver the message is important too.
Neil in his post cites a Winston Churchill speech but since I'm not a big Churchill fan, I will cite my own example, from my homepage. I'm citing it because recently a client copy/pasted this portion that sold my content writing services to him:
As an experienced freelance content writer who has been providing content writing services for many years, I know that content writing is not about selling your product or service.

It's about selling the overwhelming benefits.

It's about catering to the deepest desires of your customers and clients.

It's about establishing trust and credibility.

It's about using words that change the way people value you.

And selling? Well, it's a natural by-product of effective copywriting.
Again, words can be really powerful. Even the words that you constantly send to the universe can have an impact on your life. You should always be careful of what words you say about yourself and about others.
Don't follow a copywriting template when it comes to the length of your web page
Length isn't important, the message is.
Have you seen some landing pages that just go on and on without saying anything important? This is a sure shot way of sending people away.
If you have something, say it. If you don't have something, say that too. Don't waste people's time.
If you have lots of interesting information to share with your readers, they will definitely go on reading. But if you are just beating around the bush simply to make your copy long, you will just have a long copy and nothing else.
The most important part of your copywriting is messaging. What you want to say.
Need more words to convince people because you have plenty of compelling examples? Go on writing.
If you feel that you have said enough and nothing more should be said, then stop.
There is no set formula for the length of your copy. It depends on your message. It depends on your style. It also depends on the level of convincing your prospective customers and clients require.
For a further analysis of how strategic copywriting can drastically improve your conversion rate, you can go and read Neil's post (linked above); he has also given many examples.
Looking for more copywriting tips that can help you improve your conversion rate? There is a bar below. Submit your email ID to keep in touch because I will be posting highly useful information on copywriting, content writing and content marketing in the coming days.