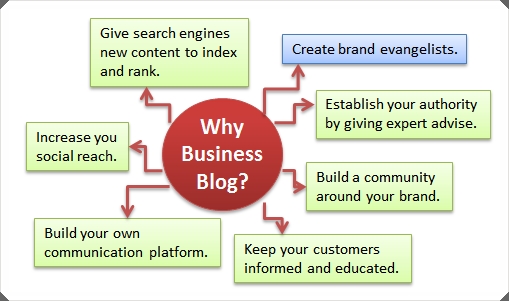 Why does you business need a blog? If you think this question has already been put forth thousands of times, you'll notice social media experts like Chris Brogan are still raising it. It means how important it is, and it also means there are still some people who wonder whether they need a business blog or not.
As Chris has rightly stated, not every business needs a blog, but if a business has a blog, that business has an edge over other business. Blogging is a great communication tool, especially if you have built up an audience for it. And if you are a big company, even the press knows about your blog.
When you have a business blog you don't need to depend on media and other PR agencies to reach out to your core market. Of course it's easier said than done. It takes effort to build an audience. If you simply keep on publishing formal press releases full of corporate jargons people are not going to throng to your blog. You need to publish content that really makes an impact. People should find it useful.
That's a reason why many businesses shy away from starting a business blog. They know it's a long-term commitment and a blog that is not well-managed can sully the image of the company.
Nonetheless, a business blog can be a great asset.
How a blog can help your business
Every blog, whether it is a personal blog, a business blog or whatever you may like to call it, is a platform once you have built an audience. You can take some examples from real life. In real life, some people have a certain reach. They wield an influence and we often admire them for that and secretly also fantasize to achieve the same status. When you have a reach your voice can be heard. You are never isolated when people are eager to listen to you. If something goes wrong and you need to communicate your point of view, people know where to reach you. This is where your blog can help you, provided it is targeted and the people who should actually listen to you come to your blog.
Building an audience of course, takes time and effort. Unless you have a big budget your business blog cannot evolve into an exciting platform just in a couple of weeks. So in order to build a successful business blog, you have to accept that, and prepare accordingly, that it is going to take time and effort. After that, it just becomes a routine, but this is a topic for another, dedicated blog post or article.
A business blog also improves your search engine rankings. After a while it becomes difficult to go on adding content to your business website, but you can easily do that on your business blog. Search engines are constantly looking for new, fresh and relevant content and they often find this content on blogs because blogs are updated frequently. Most of the blog posts are also subject-specific. This makes their content structured and easy to index as well as rank. You normally create a blog post to write about a particular subject.
When you have valuable content on your blog people have a reason to link to your individual blog posts, consequently, giving you genuine back links. Search engines like Google want people to link to you for the value you provide rather than the amount of money you're ready to pay for the back links. This they might be doing for their own monetary gains (because they are selling their own link advertisements) but this is the reality.
People like to do business with entrepreneurs they respect and can trust. Chris Brogan, for instance, whose blog post I have linked to in the beginning of this blog post, is a trusted name. He has developed this authority by continuously publishing high-quality content on not only his own blog, but also on other blogs and websites. Your business blog allows you to establish you as an authority figure in your field. Since you are constantly sharing your expertise, and this expertise helps them, they respect you for that and eagerly do business with you.
Again, whether you want to have a business blog or not is up to you, once built, it is certainly a platform that puts you in a formidable position vis-à-vis your competitors.
20 reasons why your business needs a blog
Here's a quick list of 20 reasons why your business needs a blog, gathered from various sources on the Internet.
To create hundreds, or even thousands of pages that the search engines can index and rank.
To educate and inform your customers and clients.
To tell your visitors how you feel about your product or service.
To engage your visitors in meaningful conversations.
To build a vibrant and responsive community around your brand.
To build and sustain your own communication and broadcasting platform.
To keep all the stakeholders in the loop.
To establish your authority in your field.
To share useful information with your visitors.
To tell your current and prospective customers and clients that you aren't just looking for business, you are also interested in establishing long-term relationships.
To show your non-business, human side.
To tell your side of the story.
To showcase your ability.
To tell the world how you change the lives of your customers and clients for better.
To give your company or organization a unique voice.
To attract inbound links.
To improve your author rank.
To solidify your social presence.
To give people a reason to come to your website regularly.
To improve your conversion rate.