During the past couple of weeks I've been promoting the keyword analysis tool LongtailPro to my clients.
One of my clients suggested that since I'm recommending the link, why don't I check if they have an affiliate program? If I sign up for that, he would rather subscribe to the service through my LongtailPro affiliate link.
They have an affiliate program. I joined and my client joined LongtailPro through my link.
LongtailPro is one of the first keyword analysis tools I've ever used, so may be that's why I'm all excited about it, but I can see that information it gives you really helps.
As the name suggests, LongtailPro is to be used for analyzing long tail keywords.
It doesn't just help you find long tail keywords you should optimize your content for, it also tells you whether it's worth your effort or not.
Before you start creating optimized content for your website or blog, your competitors may have already gotten their links indexed and ranked and it might be very difficult to get good ranking for those keywords.
So, what do you do?
It tells you what low competition alternatives you should try for.
Once you have submitted your URL and the associated keywords it assigns a keyword competitiveness number to your website and individual keywords.
If the keyboard competitiveness of your keyword is less than or equal to 30 then it is considered a less comparative keyword, which further means that it is easier to rank for that keyword.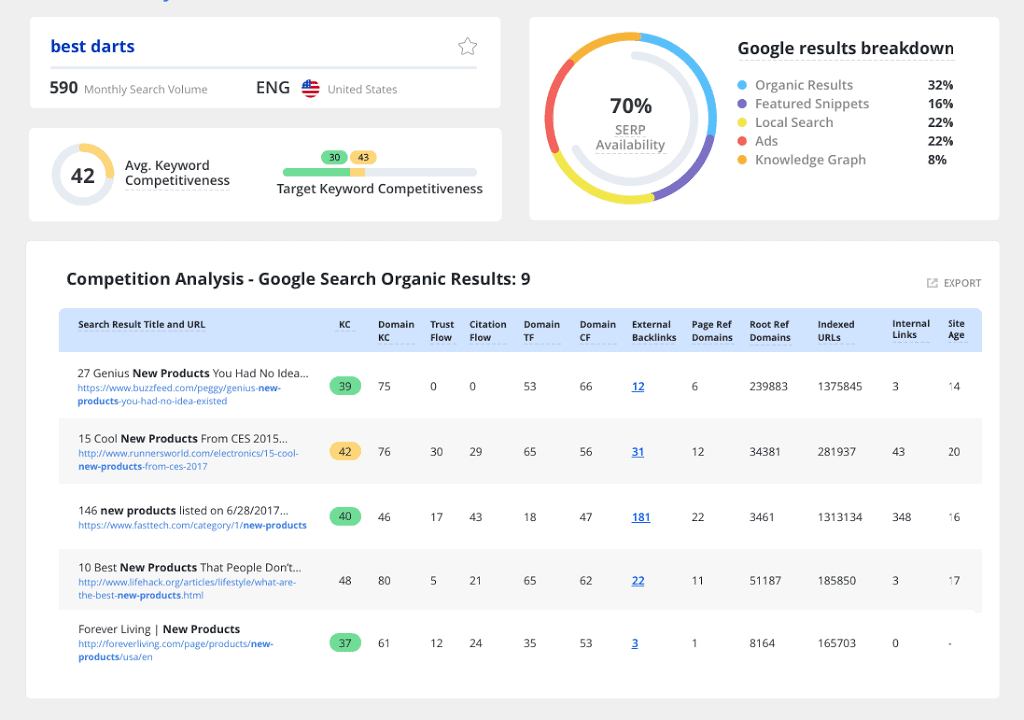 As the number moves up it is more difficult to rank at the moment and it won't be productive to focus your energy and resources on those keywords.
Then, as more and more of your content begins to appear for less competitive keywords in the search engine result pages, your keyword competitiveness improves and you can begin to target more competitive keywords.
It uses the search engine data from Google and the AdWords keyword analysis tool to suggest further long tail keywords from your individual keywords.
That is, when you supply the software with your seed keyword (mine, for example, is "content writing services") it takes out all the combinations of various search terms people use related to this seed keyword.
For me, the best use of LongtailPro is that it tracks the rankings of my various keywords in real time and it gives me a long list of less competitive keywords to work on for the time being.
It updates this data every 16-20 hours.
Whether you are tracking 2 keywords, 20 keywords or 120 keywords, you can check every day how your website is ranking for those keywords. Manually, it would be a herculean task.
It also tells you how much traffic individual keywords are drawing.
There are many keyword analysis and tracking tools available and I am pretty sure they are great.
I have started using LongtailPro because for the time being it is giving me the data that I need to optimize for various keywords.
Also, I feel it is not overpriced.
Initially you can go for the monthly subscription package so that if you don't like it you can unsubscribe after a month.
They also have a free trial but right now, at the time of writing this, some Black Friday promotional campaign is going on so I couldn't find information on the trial period but they do provide it.
As a content writer and a content marketer I also like the way they use educational content to make sure people are able to use their keyword analysis tool properly.
Many people stop using a tool because they cannot make out how to optimally use it. They don't get the desired results and after a while, they lose interest, despite the fact that the features they need are right there.
LongtailPro has lots of YouTube videos and blog posts explaining how you can find low-competition keywords for your niche and start optimizing your website.
They are continuously sending you emails prompting you to make use of their tool and increase your search engine rankings.
I think this is a good post-sale content marketing example. Recently I wrote The benefits of writing content for existing customers.
Here is my link if you want to sign up for LongtailPro.