Affordable website content writing services & copywriting services

Looking for a web content writer? Need content writing services for websites?
Or are you looking for a website copywriter? Do you need copywriting services for websites?
You are at the right place!
Need a content writer for your website? Sure.
This web page covers the following terms:
Content writing services for websites
Copywriting services for websites
Website copywriting services
Website content writing services
Website copywriter
Website content writer
With my content writing services for websites you will
Increase organic search engine traffic to your website
Improve your website conversion rate
Get more subscribers for your newsletter
Create positive buzz on social networking websites
Improve the overall quality of your content
Ultimately, grow your business significantly
How can I help you with my website copywriting services?
Looking to boost your website conversion rate? Want to grow your business?
My website copywriting services can help you achieve both, and much more.
It is crucial that your customers act on your website.
As a professional copywriter, I will craft engaging and persuasive copy that will drive your visitors to take the desired action.
Whether you want them to purchase, subscribe to your newsletter, or reach out to you, I can craft my copywriting accordingly.
My copywriting services for websites can help you in the following manner:
Write clear and compelling messaging: Easy to understand writing that resonates with your target audience. No jargon or complicated language. Simple, effective messaging that encourages action.
Highlight your USP: Through my website copywriting services I will highlight your unique strengths and benefits. I will clearly explain to your customers why they should choose you over your competition.
Attention-grabbing call-to-action: Your CTA must be compelling. I will help your CTA stand out and encourage clicks.
Search engine optimization: SEO copywriting for websites is an integral part of writing content.
Build trust and credibility: I will write authoritative content. This will establish your brand as a reliable source build confidence in your products or services.
Make an emotional connection: Through my website copywriting I will help you establish an emotional connection with your audience. This leads to more conversions.
Use friendly language: Your website copy will be easy to understand and yet professional.
Incorporate storytelling: I will reveal compelling stories into your copy to captivate your audience and keep them hooked.
Your customers and clients are looking for information that can convince them into doing business with you.
Doesn't matter from where these prospective customers and clients come to your website – search engines, social media, social networking websites or direct referrals – they are looking to be informed and convinced.
As your website content writer I can give you the edge your website needs.
I can give you the words that become your evangelists.
How do you know you need a website content writing service?
You need website content writing services or a content writer for your website when you want to experience a marked improvement in your conversion rate and your search engine traffic.
Frankly, writing is not difficult.
We have all written essays, dissertations, long answers to questions and occasional application letters.
What is difficult is, writing in a manner that convinces people into doing business with you.
The difficult part is, creating high-quality content that engages your customers and clients on a sustained level, day after day, week after week, month after month.
It is not a day-long or a week-long affair.
This, is where you need professional help.
Your online business can significantly improve its conversion rate and search engine rankings by closely working with a professional web content writer (or a team of writers if you have got a very big website or blog).
Whether you have one website or multiple websites, I can help you achieve your business objectives in an affordable manner with my website content writing services.
Why you should hire my website content writing services:
Easily scalable content publishing.
You get regular content writing for your blog or website.
You get engaging content on an ongoing basis.
No need to hire a full-time content writer for your website – pay whenever you have a requirement.
You get highly professional content that is well written.
Your SEO improves.
The point is, you can get high-quality content from various agencies and the Internet, what I can deliver you is the experience (well-written content, SEO content, engaging content, it's assumed that they are obviously delivered) when I work with you as your web content writer.
I know the importance of quality content for a business.
You may like to hire my services for the following needs:
Business webpages (homepage, services, company profile, about us, product descriptions, terms and services, etc.)
Blog content (ongoing and per blog)
Email marketing campaigns
Article marketing
Guest blogging
Marketing collateral (brochures, flyers, etc.)
Case studies and white papers
E-books
Service and product documentation
So far, I have provided online content to professions and industries including
Web design and development
Internet marketing and SEO including digital marketing
Social media marketing
E-commerce websites
Enterprise level solutions such as CRM and ERP
Web hosting companies
Telecommunications
Cloud-based services
Information technology
Computer and PC maintenance
Alternative energy companies and blogs
Hotels and hospitality industry
Real estate agencies and realtors
Legal firms and attorneys
Investigative and surveillance agencies
Event management companies
Hospital and medical equipment
Worried that I may not have a specialty since I have been writing for so many businesses?
Although I prefer to work alone, in many cases I don't. There is a team of writers I work with that is scattered all over the world.
Why does a business require website copywriting services?
You want your customers to be able to understand what you offer.
If you're selling a cool gadget on your website, you want people to know what your gadget as and why it does the job better than your competitor. This is where website copywriting helps you.
My website copywriting services help you with
Clear communication: I can explain your message clearly to your customers on your behalf.
Attract attention: Your copy needs strong words and phrases to grab people's attention. There are many power words, emotional expressions, and copywriting frameworks to help you convert more visitors into paying customers and clients.
Sell products: This is the ultimate goal of website copywriting – convince people to buy products and services by highlighting the benefits in a convincing manner.
Build trust: Well written copy makes your business professional and trustworthy. Trust is very important on the Internet because people are not interacting with you face-to-face. Your copy needs to convince them.
Connect emotionally: Studies have shown that almost all buying decisions are driven by emotions. Through my writing I can create emotional connections with customers, making them feel understood.
Explain complex concepts: I can help you simplify complicated ideas, making them easy to understand.
Boost SEO: You need to increase your search engine visibility to get targeted traffic. Through my SEO copywriting I can improve your search engine rankings organically to get the right people to your website.
Showcase value: It is very important that your customers and clients understand the value your product or service delivers. This needs to be accomplished convincingly.
Storytelling: Stories help you sell. They help you make a connection. They create the right context your target customers and clients can relate to and understand how you mean to benefit them.
Encourage action: Every website copy requires a strong CTA (call-to-action) to make people act, like signing up for your email updates, downloading your case study, book an appointment with you, or buy a product from your website.
Stand out: How do your customers and clients distinguish you from your competitors? With a unique writing style that helps you stand out.
Social media presence: Your social media presence is as important as your website. You can use my website copywriting services for consistent branding, clear messaging, strong CTAs, and engagement and interaction.
Brand building: This is an ongoing process. You cannot build your brand in a few weeks. You need consistent publishing on your website as well as your chosen social media channels.
Email marketing: Through my copywriting services I can help you reach out to your target customers and clients through ongoing email marketing campaigns.
Here is how my website copywriting services can help you sell more:
You want to sell a special watch that tracks health. How can you explain the watch convincingly, and concisely?
"Stay fit and healthy with our smartwatch. Monitor your heart rate, steps, and sleep quality in real-time. Take charge of your well-being now."
The above copywriting example describes the benefit of the smartwatch. It also encourages people to start using the smartwatch right now and take control of their health.
Another benefit of my website copywriting services is that I will incorporate words and phrases that your target audience often searches for on the Internet.
Together we can prepare a list of all the search terms people use related to smartwatches, especially health-tracking watches.
You may be selling a gadget that comes with complex set of features. Although these features can help your customers, they are not easy to explain.
Through my copywriting, I can make things simpler. I will first thoroughly understand your product, and then write its features and benefits in such a manner that people can easily understand them.
For example, if you sell drones with attached camera, you can have something like, "Fly like a pro with our smart drone. Capture stunning aerial shots effortlessly. Transfer the photos immediately to your mobile phone."
Your copy needs to be professional. Although modern word processors make it almost impossible to have spelling and grammar mistakes, they are a common occurrence on business websites.
Impeccable writing helps you build trust. People are more likely to buy from a business they trust.
The benefits of my professional content writing services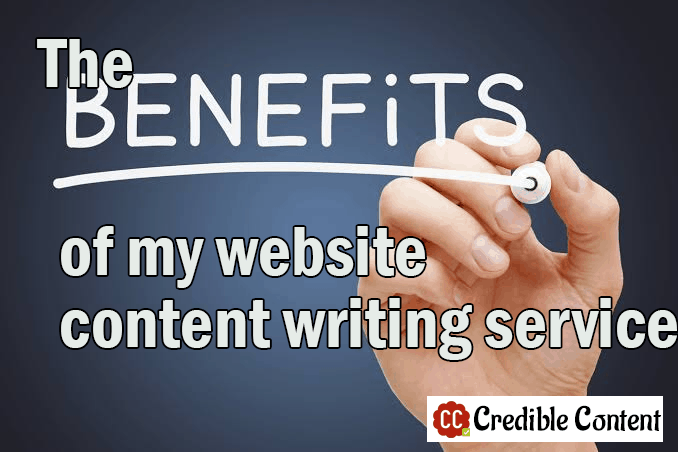 When you partner with me, you will be able to
Engage your audience meaningfully
Educate and inform your prospective customers and clients
Always remain in front of your prospective customers and clients by publishing high-quality content
Decide which is the best blog publishing platform for you
Decide which is the right platform for content marketing specifically for your business
Improve your search engine rankings by increasing focus and using the right language
Look at the problems and issues from the perspective of your customers and clients
Formulate a long-term content publishing and content marketing strategy to build a formidable online platform.

I constantly keep my finger on the pulse of the latest trends on the Internet that may give you an advantage or put you in a disadvantage.
Search engine algorithms are constantly changing.
Even medium-sized and small businesses are using content marketing to promote themselves, spending less and less money and conventional advertising and marketing.
More people using content marketing means you need to publish high-quality content regularly, preferably in greater quantity.
Now, quantity doesn't matter if your content doesn't convert.
When you partner with Credible Content you get high-conversion content that improves your business step-by-step while improving your search engine rankings organically.
Suggested reading
The point is, your online presence needs content that makes an impact.

Higher search engine rankings without a better conversion rate don't matter much
Although my primary concern is to improve your conversion rate, I also, totally, understand the importance of SEO. I know search engine rankings matter.
You need targeted traffic from search engines.
Fortunately, getting good search engine rankings with quality content isn't as difficult as it seems.

As long as you are writing great content that engages your audience and provides them valuable information, your SEO is going to improve.
Search engine optimization these days no longer involves repeatedly using your keywords.
Of course, if you are trying to optimize your writing for certain keywords you need to use them (and their various alternatives), but more stress is given on the quality of your writing.
Another thing about SEO these days is there is no use trying to optimize for precise keywords.
For example, if you have a boutique shop, rare is the chance that your ideal customer is going to look for "boutique shop" on Google.
He or she is either going to look for "boutique shop latest fashion" or "local boutique shop" or "where can I buy a wedding dress in Los Angeles?" or even "red top with bead designs".
What I mean to say is, people these days search for products and services rather than general terms.
They ask questions and search engines like Google give them answers.
With voice search, the act of searching has become more conversational.
You have to take this into consideration during the search engine optimization process.
These days you need to optimize your webpages and blog posts for longer, conversational phrases rather than keywords containing 1-2 words.

So, how will I get you more targeted search engine traffic with my professional website content writing services?
Thorough research of your keywords and longer search phrases
Content writing that delivers value to your customers and clients
Social validation
Back links
I have personally observed with my own website and with those of my clients, the following attributes have a direct impact on your search engine rankings:
The quality of your content – your webpage or blog post title and the use of your keywords and key phrases.
The quantity of your content – you need to have lots of content if you have competition. The more competition you have, the greater is the frequency needed to publish high-quality content.
A few back links from quality websites trusted by Google
When I'm writing content for you (or through my content writers) I make sure that your message is engaging, of highest quality, and takes your business forward.
If these attributes are taken care of, your search engine rankings automatically improve.

Content should be written for your visitors not for you
What is website content? It is a communication tool. Who will be using this communication tool to obtain information from you? Your customers and clients.
This is why your website content should always be written for your customers and clients. Address their concerns. Provide answers to their questions and inquiries. Satisfy their desire to know everything about your product or service. Focus on the benefits. Tell your customers and clients how do you plan to change their lives for good. Contact for high conversion content writing services for your website to grow your business in the foreseeable future.