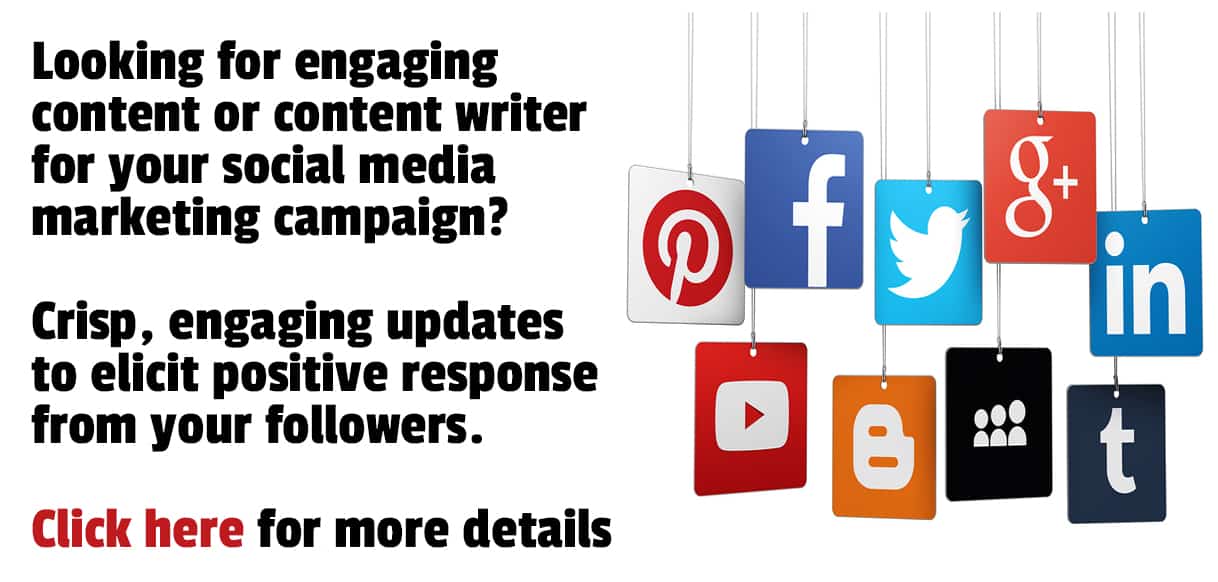 Looking for social media content writing services to create and maintain a positive buzz on various social media platforms?
Need micro-content writing services for your business?
Want an experienced content writer for social media posts?
Your social media content marketing strategy primarily depends on the quality of content that you post various social media platforms, and its frequency.
It's all about engagement.

You must be useful, you must be interesting, you need to be relevant.
Why you need professional content for your social media posts
Many people, mistakenly, take social media lightly.
It's because maybe it's free.
This is a slightly old Forbes article, but it says that businesses that promote on social media outsell their competitors by 73%.
You can very well imagine how the situation might be right now when everyone is on Facebook, LinkedIn and Twitter.
Regularity of quality content is the key to success on social media and social networking websites.
With millions of people and businesses posting every hour, how do you remain in front of your prospective customers and clients?
Through regular updates.
Only a professional content writing service or a professional content writer can provide you high quality regular updates for your social media marketing campaigns.

Why do you need a content writer for social media posts?
These days I'm providing micro-content writing services to a few businesses and there is a reason they have hired me.
I routinely go through their web pages and blog posts and find the most compelling reasons that people would like to receive information from them.
Aggressively promotional content doesn't work on social media unless you are advertising – people know that you are advertising and hence, don't mind coming across your ads.
But, if you are posting as a business or an individual planning on engaging people, even the promotional content needs to be converted into useful, engaging content.
Through regular posting, you give them so much information that they begin to see sense in doing business with you.
This cannot happen in a week or even in a month.
Initially they will just ignore your content.
Then, when the others begin to like and share your content and when they regularly come across your content, they begin to take notice.
This needs consistency and quality.
When I provide social media content writing services, I can prepare a content calendar for you – even for multiple months – so that you never run out of quality content to post on your social media timelines.
I can write individual micro-content pieces for different social media services or I can write uniform content that you can post on all major platforms.

To make an impact on social media, your content must mean something.
First of all, you need to realize how important social media presence is for your business and only then you can realize the importance of working with social media content writing services.
The benefits of working with a content writer for social media posts include
High-quality content.
Relevant content based on the interests of your audience.
Uninterrupted publishing.
All these three attributes are very important.
You cannot publish content randomly – one day you publish something, and then for a few days you don't, and then again one day you publish something.
This doesn't work.
You need to be consistent.
Whether your friends and followers realize it or not, whether they specifically mention it or not, the expect to see updates from you at a particular time.
This can be achieved if you work with social media content writing services.
What are micro-content writing services?
There is a difference between micro-content and thin content.
Thin content is inferior quality content, usually 200-300 words, that you publish on your website or blog.
If you use some SEO auditing service, it can go through your individual web pages and blog posts and highlight instances of thin content, making suggestions that you should improve the number of words.
Even Google Search Console can tell you if there are multiple instances of thin content under your website.
Micro-content is pieces of small content that you publish on social media websites.
Although, on LinkedIn you can publish blog posts, when you are making regular updates on your timeline, you focus on micro-content.
Micro-content consists of normally 50-60 words.
For example, on Twitter you can write just 280 characters, including spaces.
When you are posting videos on Twitter, they should not be more than 120 seconds.
On your regular Instagram timeline, you cannot post video is greater than 60 seconds.
On Facebook there is no limit but people don't prefer to see very long updates on their timelines.
Micro-content is preferred.
These days and providing micro-content writing services for social media to multiple businesses.
Just because you can write 50-60 words for social media posts it doesn't mean that it is an easier job compared to writing blog posts and web pages.
Remember that you want to post content on your social media profiles because you want to make an impact.
You want people to notice your content?
You want them to remember you for quality content postings.
After all, if you don't make a positive difference in their lives, how are they going to trust you and pay attention to your social media updates?
You want them to pay attention to your social media updates, don't you?

That's why you are considering to hire a content writer for social media posts.
It is becoming a common refrain these days that your business is known by the quality of updates you post on Twitter and Facebook.
Your language, your timeliness, your relevance, your reaction to positive as well as negative feedback and your proactive approach towards engaging your audience, all these can have a lasting impact on your presence.
Besides, all search engines, including Google, are deriving lots of their search results from the content posted on various various social networking and social media websites.
A vibrant social media presence is also important for your SEO.
You want people to share your blog or website content on their social media timelines.
You are also looking for backlinks to improve your SEO.
People are not always searching for content to link to on Google and other search engines.
They check their social media timelines multiple times in a day on Facebook, Twitter and LinkedIn (and other platforms like Instagram).
When they come across your updates and like them, they share them on their own timelines and even link to them from their own webpages, articles and blog posts.
Suppose someone is writing a blog post for LinkedIn and is looking for some useful information on the benefits of working with social media content writing services.
The success of your social media content marketing strategy depends on two factors:
The quality of the content you post
The regularity of the content you post
Why it makes sense to work with a writer for your social media posts?
The quality of your content decides how people are going to perceive you and your brand.

Just think of it, why should people take you seriously if you post nothing serious?
And by serious I don't mean morose ponderings.
Your content must be relevant, timely and useful.
People should follow you and pay heed to your updates because they look forward to what you have to say on topics concerning your business.
If your content doesn't interest them, they start ignoring your updates and worse, start ignoring you.
Regularity is important too, although it is not as important as the quality of your content. Since timelines move fast on social media your postings will quickly scroll down. 90% of your friends and followers (among those who regularly check their profiles and timelines) won't notice your content if you publish once or twice in a day. You need to post as frequently as possible (without crowding people's timelines, of course).
And not just post, you also need to interact and engage. You will need to respond to other people's posts and participate in ongoing discussions.
All these take time and this is what I can offer you as my social media marketing content services. When you partner with me you will always have top-notch content to post under your social media profiles whether it is business or personal. I can provide content for
Twitter
Facebook
LinkedIn
Tumblr
The main highlights of this web page are
Social media content writing services
Micro-content writing services
Content writer for social media posts
Contact me for more details.