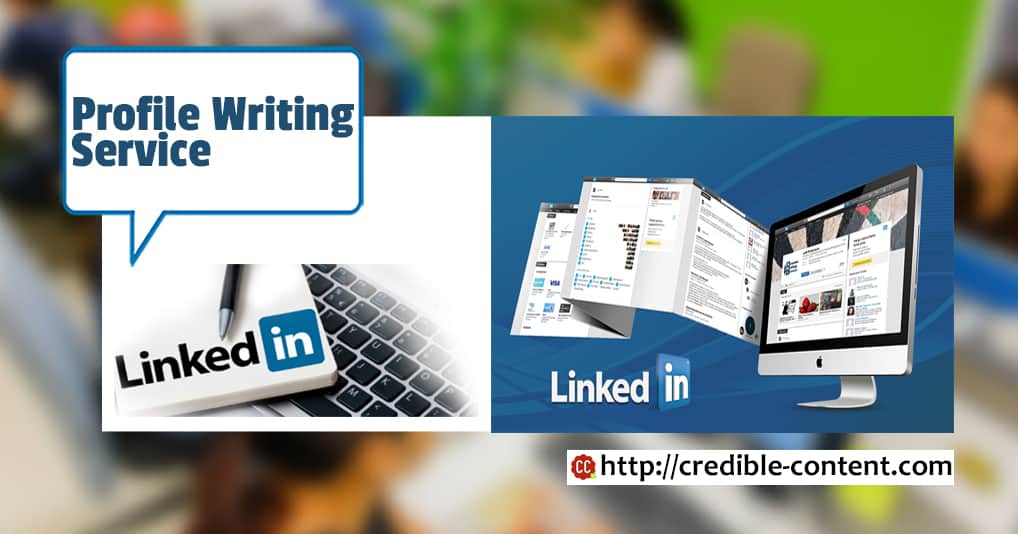 Do you need a LinkedIn profile writing service that can get you a top-notch LinkedIn profile on the best business networking websites?
Contact Credible Content today for a professional LinkedIn profile.
Why do you need a LinkedIn profile writing service?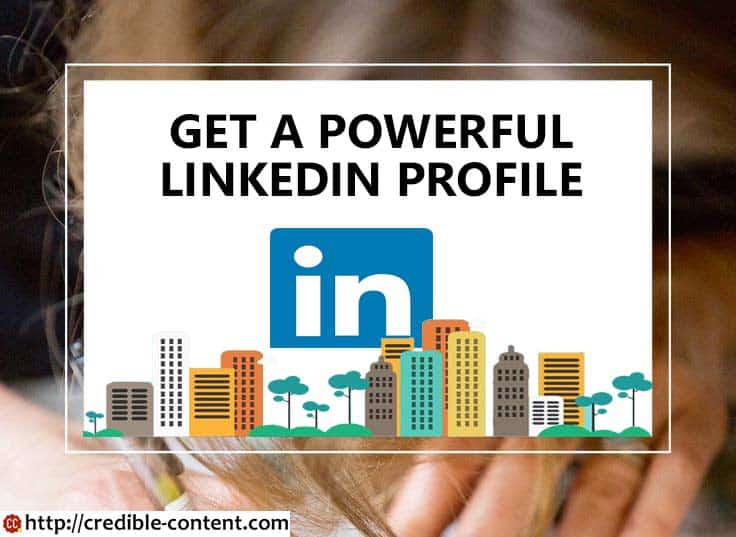 You must think why you need to hire a writing service for your LinkedIn profile when it is just a social network where opening an account and creating a decent presence is totally free?
Interesting fact: Your profile on LinkedIn may be ranked higher on Google than your profile on your own website. This is why search engine traffic to your LinkedIn profile is as important as search engine traffic to your own website.
Not just for our LinkedIn profile writing service, for all sorts of content writing, copywriting and content marketing services, Credible Content gets ample amount of business from LinkedIn.
All you have to do is, once you have created your account, go to your profile and key in some facts about yourself or your business.
Although, LinkedIn is a social networking platform it is not Facebook where you want to declare it to the world what awesome breakfast you had, or Twitter where you let the world know your views on Donald Trump.
You need a professional LinkedIn profile writing service because on LinkedIn people are looking for business. They are serious people. They go through LinkedIn profiles because they are looking for business opportunities and business partnerships. Mostly B2B entrepreneurs and people who seek job opportunities use LinkedIn. This is why, you need a professional and experienced LinkedIn profile writing service to give you a convincing representation on the professional networking platform.
It is being used by CEOs, top-level managers, executives, designers, engineers, media moguls, real estate builders, doctors and all sorts of other professionals to look for business growth opportunities, partnerships, employees and employers.
Your ability to show up in LinkedIn profile search shouldn't be taken lightly.It's a serious place. One look at your profile can make a difference of that multi-million-dollar client deciding to work with you or not to work with you.
It's about money. And when it's about money, you need a professional LinkedIn profile writing service.
Contact Credible Content today for a professional LinkedIn profile.
Why does it make sense to work with a LinkedIn profile writing agency?
This link by Meenakshi Chaudhary has some interesting information on LinkedIn (around 2017):
There are 467 million LinkedIn users.
There are 106 million monthly active LinkedIn users (they haven't just created their accounts, they use their accounts to interact and seek business opportunities).
40% LinkedIn users use the social networking platform daily.
The goal of LinkedIn is to connect 3 billion professionals from all over the world.
70% of LinkedIn users are outside the USA.
3 million LinkedIn users share content on LinkedIn at least once a week.
LinkedIn profiles with professional -looking head shots get 14 times more profile views.

LinkedIn profiles with professional photos get 21 times more profile views.

LinkedIn profiles with photos get 36 times more messages.

79% B2B marketers consider LinkedIn as an effective source for generating leads.
92% B2B marketers prefer LinkedIn over other social networking platforms.
In some cases, 80% B2B leads come from LinkedIn.
94% B2B marketers use LinkedIn to share and distribute content.
The US, India, Brazil, Great Britain and Canada have the highest number of LinkedIn users.
44% of LinkedIn users make more than $75,000 per annum.
41% millionaires of the world use LinkedIn.
An average CEO has 930 connections on LinkedIn
The statistics in themselves tell you how serious a place LinkedIn is and why it is very important to take your LinkedIn profile seriously. Many content rating agencies have created entire businesses out of writing great LinkedIn profiles for individuals as well as companies and businesses.
A search optimized LinkedIn profile can do wonders to your presence on the professional networking website.
What makes your LinkedIn profile great?
Your LinkedIn profile is like a resume but it's like a resume written in the form of an essay or a dissertation with clearly demarcated sections.
Here are a few things to consider in order to have a great LinkedIn profile:
Think of your target audience:

Are you looking for a good job? Are you looking for business partners? Are you making a brand presence? Whatever you want to do, you will have to keep that in mind before beginning to write your LinkedIn profile. Remember that LinkedIn has its own search engine. So you need to be careful of the language that you use. Keywords also matter when you are creating your LinkedIn profile but if you do a lousy job of using your keywords, you can enter completely ruining your profile.



Describe exactly who you are in your name:

LinkedIn allows you to divide your profile title into sections: your name and what's your designation for unique business proposition. Don't use highfalutin expressions like "the Superman of SEO" or something like that. These things are off-putting. For example, for my name and title I have: "Amrit Hallan; An Experienced Content Writer Who Can Help Improve Your Conversion Rate" – it precisely tells you who I am and what I do and what I can deliver.



Get some professional images for your headshot and header image:

High-quality images these days are an integral part of creating professional business profiles and the same holds true for LinkedIn. Get a high-resolution photograph of yourself for the headshot to use for your LinkedIn profile. For the profile header create an image that truly represents your business.



Complete all the sections:

Different sections in your LinkedIn profile are meant to provide bits of information about you and your business. Take your time. You don't want to complete your LinkedIn profile in the next 5 minutes. It's going to get you business or new career opportunities. So even if it takes one week for you to complete your LinkedIn profile, don't mind that.



List all your qualifications and experiences:

Well, just like a resume.



Use conversational language:

Although your LinkedIn profile is a business profile, stay away from big words because many will be accessing your profile from their mobile devices and on a mobile device it is easier to read smaller words.



Use your keywords in the name and headline:

Just like in search engines, keywords are also important in LinkedIn. This is because LinkedIn has its own search engine and wherever there is a search engine, you need to use keywords. Refer to point 2 about how I have used my main keyword "Experienced Content Writer" in my title.



Get some testimonials:

The more testimonials you have, the better it is and as a professional, I assume that you understand the importance of testimonials.



Why it makes sense to work with Credible Content
Are you looking for a LinkedIn profile writing service? Do you need an outstanding presence on the world's most influential professional networking website?
Whether you are a B2B business looking for business partnerships, or an executive, or an entrepreneur, or a fresh graduate or a minion, our LinkedIn profile writing service can write a professional LinkedIn profile for you that will help you achieve your goals.
Once you contact us we will first get all the information from you like
What is your intention of creating your LinkedIn profile?
Whom do you want to target and whom do you want to attract?
What has been your career path so far and where do you intend to go?
These are the basic bits of information and it may also have sections and subsections. Once I have gathered all the information about you I will create a professional LinkedIn profile with simple but convincing language.
Contact me if you need a LinkedIn profile writing service.
You may also like to read about my social media content writing and marketing services.