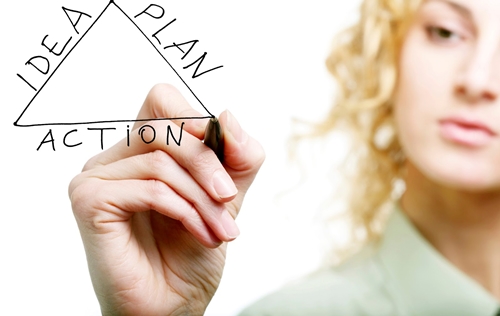 Wikipedia defines content strategy as
…the practice of planning the content creation, delivery, and governance. A repeatable system that defines the entire editorial content development process…
Content strategy simply means figuring out exactly what your audience needs and then publishing that in an appropriate format and through appropriate channels.
I provide content writing services but content doesn't always have to be text. It can be anything as long as your audience is okay with consuming it. It can be video, audio, images, PowerPoint presentations or PDF files.
Defining and establishing a content strategy
How do you know what's the best content for your business? To know this, you need to figure out what's the best content for your prospective customers and clients in relation to your business. What would make them trust you more, seek you out when they need the right information and then do business with you when the right moment arrives? In broad terms, a content strategy involves:
Knowing exactly what you offer to your customers
Knowing exactly why your customers would do business with you
Understanding their problems and concerns
Providing solution-oriented content in their preferred format and via their preferred channels
Using their language rather than assuming that they understand you
Making it easier for them to find your content
Constantly engaging them and encouraging them to remain in touch
Targeting search engines by concentrating on primary, secondary and longtail keywords
Posting meaningful and engaging content on social networking websites such as Facebook, Twitter, LinkedIn, Pinterest and Google plus
As it happens with all strategies, the tricky part of content strategy is consistency, that is, continuously producing and publishing high-quality content. Once you have defined your content strategy you need to set up a mechanism that helps you produce the needed content for broadcasting and distribution and for continuous evaluation as well as streamlining.
How do you execute a content strategy?
Clearly define your objectives: What do you want to achieve with your content strategy? Do you want to inform and raise the awareness level of your customers? Do you want to capture their email addresses so that you can keep in touch? Do you want to build a broadcasting platform that you later intend to use to promote your business? Spend ample time defining your content strategy objectives and then stick to them.
Identify resources, strengths and limitations: The execution of a content strategy is a long-term process so it is very important that you have the needed resources. Long gaps between content publishing, content distribution and user engagement can sabotage any well-crafted content strategy. Have a dedicated person, or a team of persons to take care of your enterprise content production and distribution on an ongoing basis. This will also help you decide whether you are going to go with an inhouse team of content creators and marketers or you are going to outsourec.
Setup a content distribution and broadcasting mechanism: "Build it and they will come" doesn't work on the Internet, especially when for one content publisher there are thousands of other vying for the same space and a piece of user attention. You need to develop and setup your own broadcasting channels. You can either partner with commercial content distribution and syndication services or you can build your own channels using social media and social networking channels such as YouTube, Slideshare, Twitter, LinkedIn, Google Plus and Facebook. Actually building a strong presence over these channels, for some businesses, could be as important as building the actual content.
Focus on engagement and conversations: The ultimate objective of a content strategy must always be creating an atmosphere that encourages engagement and two-way communication. Through your content, you don't talk to people, you talk with them. You don't barge in; you either let them come to you, or meet them half-way. Make sure when you are publishing and distributing content its ultimate goal is engagement.
Analyze, revise and streamline: Every strategy evolves. This is why every content strategy must be agile, that is, it should be implemented at its minimal form and then, according to outcomes and analysis it should be evolved further.