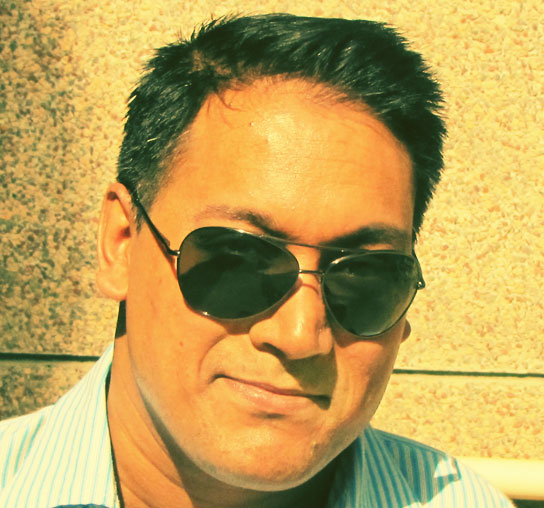 What I currently do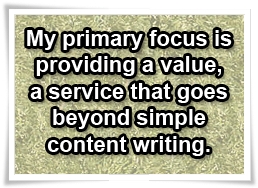 Through my content writing services I help businesses and individuals sell more, whether they want to sell products, services or ideas. Yes, I am a content writer, but I consider writing just a tool. My primary focus is providing a value, a service that goes beyond simple content writing. When you work as a professional content writer and people hire you for your content writing services it goes without saying that you should know how to write well, convincingly and compellingly – that goes without saying. What really counts is, how much you contribute towards the growth of your client's business. This is what I do. Through my content writing I help my clients
Engage their audience meaningfully
Educate and inform their prospective customers and clients
Always remain in front of their prospective customers and clients by publishing high-quality content
Choose the right platform for content publishing and promotion
Improve search engine rankings by increasing focus and using the right language
Look at the problems and issues from the perspective of their own customers and clients
Formulate a long-term content publishing and content marketing strategy in order to build a formidable platform
All this, I try to achieve by empathizing with the prospective customers and clients of my clients.
I also create content for social media marketing.
Sidenote: For many years I have never shared a particular aspect of my life because I thought it had nothing to do with my professional undertakings. But then I realized that when I'm talking about myself, how I am is also a big part of how I work.
I have cerebral palsy which makes my body more than 80% disabled.
I use a power wheelchair (battery-operated) to move around.
Again, it has got nothing to do with content writing, but when I'm talking about myself, I think it is fair enough to also talk about my disability which is a big part of me being me. My photo on my wheelchair is in the sidebar.
Content writing services for inbound marketing
Through inbound marketing you attract people to your website by providing engaging and helpful content rather than bombarding them with advertising material that puts them off in more than 99% of cases. People want to be engaged when it is convenient to them, when they are feeling more receptive and when they actually want to hear from you. Through my content writing services I can help you distribute your content throughout all major channels so that it is easier for people to find you and come to you when they need to contact you.
My content writing methodology
As a content writer whose sole purpose is to help you make an impact and eventually, grow your business, when I start working with you, I try to know your business as much as possible. What does your business stand for? What do you really offer in terms of values and benefits? Why would your customers or clients do business with you rather than with someone else? Why in the first place customers or clients would be looking for your product or service? What are all the possible search terms they may use if they need to look for your products or services on Google or any other major search engine?
Whether you're looking for a content writer for a B2B business or a B2C business, you need to articulate yourself in the language your target audience uses. This not only, automatically, makes you sound more convincing, it also improves your search engine rankings organically because you are using the phrases and expressions they may use on search engines.
As much as I can manage, I like to write in a conversational style. Lots of jargons and technical gobbledygook induce lack of interest.
My background
I graduated from college in math. After completing my two-year postgrad diploma in computer applications maintenance for half a year I worked as a C programmer (during the mid-90s application development boom). Always itching to chart my own path I started my own consulting business (software development and training) and it was during these times I created lots of educational material for computer training centers that were popping up like mushrooms in a rainy season. That was a great experience in writing content that didn't just educate but also entertained and engaged. Then came the Internet.
I first stumbled into web designing, and then PHP programming (due to my C/C programming background) and eventually in 2004, since I couldn't resist writing, I started my content writing business. Since then I have been doing this. I haven't kept a count – I should have, actually – but by now I must have written content for more than 1000 clients from different countries (I don't even know whether I am exaggerating or understating).
What makes me qualified to work with you?
Well, how should I put this. I think my basic strength is that I'm not just a content writer in the conventional sense. Yes, I can easily use writing as a communication tool. I express well and I am totally at ease with my craft. But more than that I understand the Internet. I'm totally in tune with contemporary technology. Social media and social networking are something I totally relate to and sometimes help my clients leverage their potential. Above all, when I write for you, I don't actually write for you, I write for your audience, and this is the primary reason why most of my clients choose to work with me.
I write convincingly and compellingly – that goes without saying. What really counts is, how much you contribute towards the growth of your client's business. This is what I do. Through my content writing I help my clients
Engage their audience meaningfully
Educate and inform their prospective customers and clients
Always remain in front of their prospective customers and clients by publishing high-quality content
Choose the right platform for content publishing and promotion
Improve search engine rankings by increasing focus and using the right language
Look at the problems and issues from the perspective of their own customers and clients
Formulate a long-term content publishing and content marketing strategy in order to build a formidable platform
All this, I try to achieve by empathizing with the prospective customers and clients of my clients.
I also create content for social media marketing.