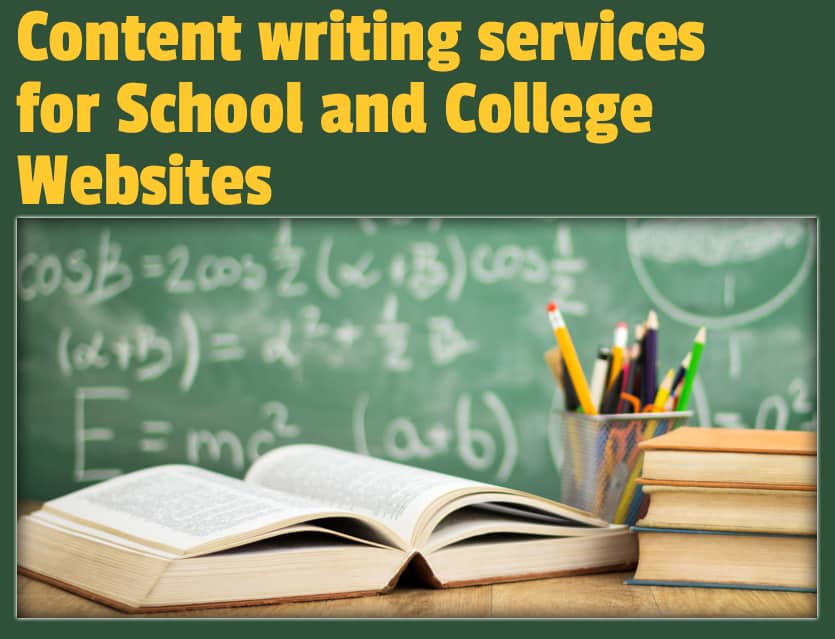 Content writing for school or college websites can be quite challenging. Not any content writing service can create engaging and compelling content for an educational institution website.
Every content writer who writes for a school or college website must be sensitive towards the prestige attached with such scholarly places of learning and intellectual growth where foundations of civilization are laid on a day-to-day basis.
Credible Content is regularly providing educational and awareness content to various school and college websites but due to NDA the links cannot be directly shared on this webpage. Some of our content writers are also teachers so this gives them an insider's insight into the way literature should be prepared for these websites.
School and college website content is all about attracting a younger audience and scholarly talent
The main purpose of your school or college website is
Attracting students who are seeking quality education
Attracting parents and guardians of students seeking trustworthy and reliable educational institutions
Attracting scholars and educationists who are seeking rewarding and meaningful career
Encouraging a culture of scholarly pursuits and discourses
Writing content for a younger audience is challenging as well as enchanting. The language and the style must appeal to kids and young adults while maintaining the prudence of an educational institution.
The content writer should know how to maintain the decorum of a school or college website while writing in an easy-going style. The writing should be a confluence of scholarly culture and a carefree environment where minds are allowed to grow.
We can provide compelling content for your
School or college website
Coaching institute website
Educational and awareness blog
Student outreach articles and blog posts
University or school newsletter
Sample tutorials to draw students to your website
Case studies and white papers
Course and module descriptions
Scholarly content writing service for school and college websites
Writing content for school and college websites and other educational institutions is a bit different from writing content for general businesses.
Although various educational institutions want to attract students, they cannot indulge in hard selling. It needs to be communicated subtly to students and their parents and guardians why they should attend this premier institute and not another institute.
Through our content writers, Credible Content can provide you content for your website on one-time basis as well as ongoing basis.
Since most of the schools and colleges these days are competing with each other, they need to be able to draw prospective students, parents and guardians and teaches to their websites on an ongoing basis, and especially when there is time to seek admissions.
Through your content you need to convey why yours is a better place. Why Oxford and not Cambridge?
Some schools and colleges also attract students from other universities. So, they also need to have content on their websites that conveys to international students that they are welcome and what educational and residential facilities are available at your school or college.
And of course, the faculty. Regrettably, on most of the school and college websites it has been observed that less stress is given to the faculty whereas, the faculty is the most important aspect of any school or college. Through our content writing we always suggest that highlight the pool of educational talent that is present at your institution.
Coming back to the content part, our content writers can provide you one-time content writing service as well as ongoing service.
Many institutions prefer ongoing service because they continuously want to publish highly useful and scholarly content on their websites to draw students and parents. For that, many school and college websites these days have dedicated blogs and FAQ sections that are regularly updated.
Want to know how our content writers (Credible Content) can help your school or college create a vibrant presence on the Internet and draw highly talented people from all over the world to your institution? Contact today.