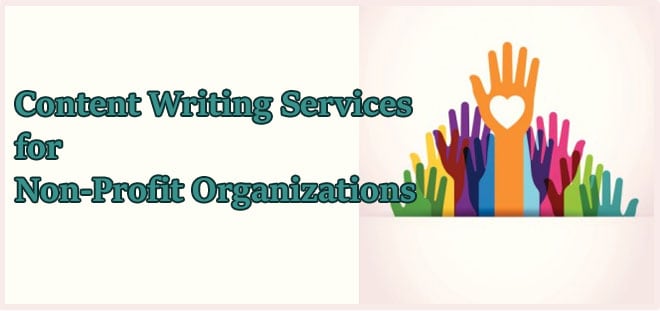 Are you running a non-profit organization or business and you think you don't require a content writer? Professional content writing services aren't just for profit-making businesses because they need to generate more leads and sales. Even when you are selling an idea, an ideology or cause, you need to talk to people convincingly.
Why you need a content writer for your non-profit organization
Being a non-profit doesn't mean you don't need resources. You need to rope in more people. You need to raise awareness. You may also need funds – even Mother Teresa got millions of dollars in funding on a regular basis for her Missionaries of Charity organization.
People aren't going to join mainly because you think that you're doing some good work and people must feel compassionate enough to join you. Yes, that happens but only if you are a very big, very well-known organization having already done stellar work in your field and earned laurels all over the country or all over the world. But if you are a relatively new organization at every front you will need to promote yourself if you want to do some meaningful work in your field. You have to highlight your strengths and requirements. You need to showcase the work that you are doing and the difference your work is making. You will need stories – emotionally moving stories (not made up of course) – to make a real impact on donors, volunteers and resource persons.
Writing content for your website or your blog or your email newsletter is an ongoing process. Of course even someone from within your organization can write content for your website but then you will need a dedicated person who can write passionately. You may have to hire that person and that will be costly compared to working with a freelance professional content writer. With a freelance professional content writer writing for your non-profit organization you simply have to pay for the content you get and nothing more. But if you hire an in-house content writer you will have to bear all the associated costs, putting a burden on your already scarce resources.
As a content writer how can I help you grow your non-profit organization?
A lot depends on good communication. There might be hundreds of thousands of non-profit organizations in your country and among these a great number may be working in the same field. I'm not saying that you need to compete with other organizations, but maybe you have something that other organizations don't have. Maybe you feel that the other organizations are not doing justice to the cause and the cause will be better served if you could do more – get more people involved, achieve more work at the ground level and attract more funds.
The Internet is full of noise. Sometimes people get confused between real intentions and phoney intentions simply because people having phoney intentions are more articulate and more convincing. Sometimes there are language barriers – maybe you cannot write in English as well as someone who is proficient.
I may not be able to help you with many languages but if you want to convince people in English, I can do that. I can help you write
Blog posts
Articles
Social media updates
Brochures & flyers
Long articles (research-based)
Email content
Ebooks
Case studies & white papers
Email replies to queries
Basically, if you need to communicate in English (in writing, that is) I can help you. Taking the example of the last bullet point, there are many organizations where people don't have proficient personnel to prepare professional replies to email queries and many of their tasks are not achieved simply because of this. That is, even if you feel that you don't require content, you need someone who can properly reply to your email queries. There, I can help you.
Do I provide a discount for writing content for non-profit organizations?
It depends. I mean, if you are paying other professionals and service providers the same amount of money then you shouldn't have problem paying me what is due. Other than that I'm more open to providing a discounted rate to non-profit organizations. So don't hold yourself back thinking that you won't be able to afford my services.
Fine, maybe you cannot. I will let you know if I'm unable to work on your rates. Still, I would like to assist you. I would like to find you a writer that can provide you high quality content on good rates. Even if you want some of your staff to write content for you, there also I can help. Contact me if you're looking for a content writer for your non-profit organization irrespective of what's your budget.