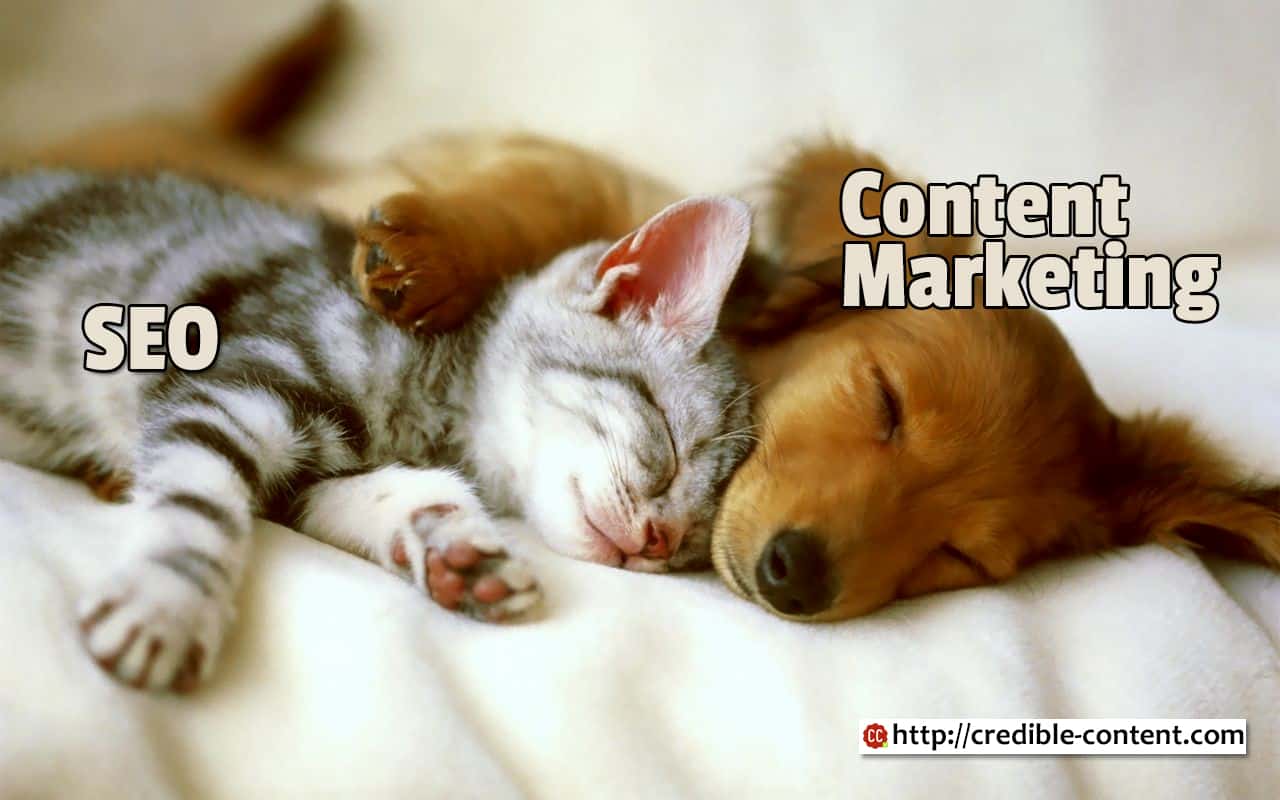 Have you been thinking of using content marketing for SEO? Very few people know this or acknowledge this that SEO is in fact, all about content marketing. Your search engine rankings improve only when you have the ability to create and publish quality content on a sustained level, and after publishing, distribute and market that content so that it reaches the right audience at the right time.
Various content marketing examples can be found where individuals and businesses have used this type of marketing to generate targeted traffic from Google and other search engines.
Right now, mine is not a very big business (right now) so most of the clients who approach Credible Content to generate more targeted traffic from search engines through optimized content writing.
As you may have already read on my website, content marketing includes
Publishing high-quality content that helps your visitors.
"Marketing" that content so that it's easier for people to find it on search engines and social networking websites.
Providing information people are looking for.
Read: What is content marketing? Explained in detail.
Why is there so much confusion about search engine optimization and content marketing? Are they related or not?
If you had asked this question a few years ago, especially before Google's Panda and Penguin updates, many would have said that content marketing and SEO are two separate activities. But, after Panda and Penguin updates Google has made it clear that it is the quality of your content, it is the "valuable" factor of your content that decides what sort of rankings are going to enjoy.
These updates were necessitated because people were injecting lots of junk content into search engines and this was decreasing the quality of search results. Now, since the entire business model of search engines like Google depends on the quality of search results they can bring up, it would have been very bad for their business had things gone the way they had been going – just stuff your content with lots of keywords and you are good to go.
These days, to get good search engine rankings, preferably the top 10 results, you have to publish quality content regularly.
How does quality content help you improve your search engine rankings?
Consequently, when you publish relevant content, highly focused content, over a long period of time, and you distribute your content using all the channels available to you, it begins to improve your search engine rankings.
Does merely publishing high-quality content guarantee good search engine rankings? Sometimes yes, sometimes no.
Your content needs to be search engine friendly so that it gives all the necessary signals to ranking algorithms that the content actually addresses the issues being promised in the title and for the keyword it is being optimized for.
In order to understand why content marketing for SEO works for most businesses you need to understand what exactly is SEO (ignoring the technical part):
SEO means doing keyword research and preparing a long list of keywords and search terms that people may use in order to find your website or blog.
It means writing and publishing lots of content around those keywords and search terms to communicate to the search engines that you have good quality content pertaining to those keywords and search terms.
SEO is getting social validation – sharing your newly published content and social networking and social media websites and encouraging people to engage with you. When others share your content on their own social networking and social media platforms it gives you validation and then this validation is used by search engines to rank your content. Read 5 ways to make your content social media friendly.
SEO means encouraging people to link to your website, blog and individual links. The more people link to your website or blog, the higher your search engine rankings.
Voila! Aren't all these things an integral part of content marketing? Yes they are. These steps, and many more, you take repeatedly when you are implementing your content marketing strategy. Read How to improve your search engine rankings with useful and relevant content.
Is it only content that matters now?
If content marketing and SEO are more or less the two sides of the same coin, does it mean it is the only way to improve your rankings and you will no longer require your neighbourhood "SEO experts"?
No, I don't mean to say that. Traditional professionals that help you improve your search engine rankings have their place in the scheme of things. In fact, many search engine optimization companies provide content marketing as an integral part of their SEO services. Most of the reputed SEO services understand that without content marketing there is no SEO. So, they are either providing content marketing services through their in-house staff or they collaborate with content writing and content marketing services like Credible Content to provide their clients content marketing for SEO.
Why do search engines like Google insist on high-quality, relevant content?
Search engines like Google love high-quality content. It's understandable. People using search engines are looking for good quality content. The better content the search engines provide, the more people use them. You may like to read this Guardian piece: Is Google's love affair with content marketing usurping SEO? The Guardian article rightly says:
These scenarios do not herald the 'death of SEO'. Far from it. The future lies in collaboration. The relationship between content marketing and SEO only reaches its true potential when it's designed to be symbiotic. This means that brands need to underpin their content with SEO strategies like strong internal navigation. So the user finds a recipe via search term, then purchases all necessary ingredients and equipment, then participates in a social communities around the recipe. The idea is to use varied skills to build hubs around interdependent content and search terms in order to nurture cross-selling potential.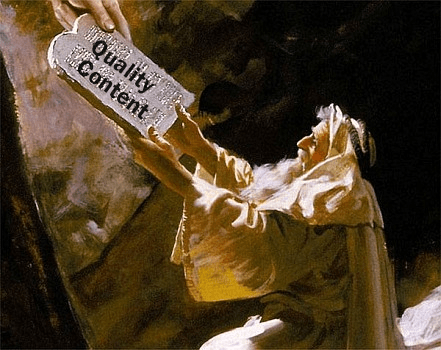 According to Lee Odden, "Think of SEO this way: If a customer-focused content marketing program is the sandwich, then SEO is the mayonnaise. It touches nearly everything and enhances the overall flavor of the sandwich, but on it's own, it's not very appetizing." Source.
What's the big difference?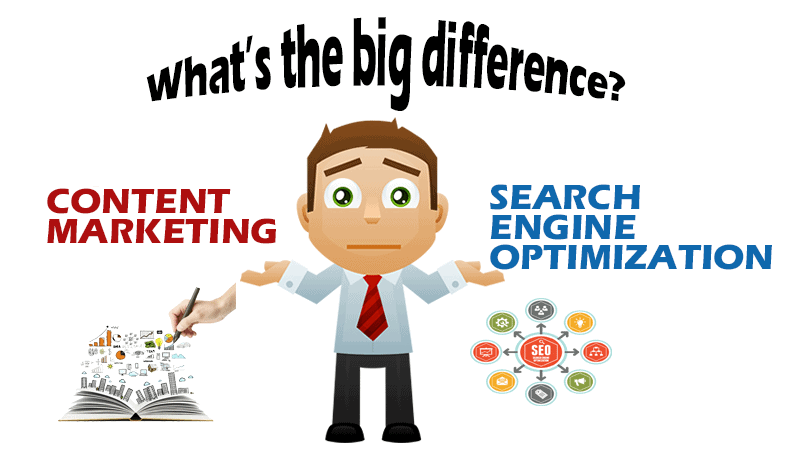 In the current context, can content marketing and SEO lead their separate lives?
The answer is, to be frank, no. There are many who would say that yes, they can exist exclusive of each other, it doesn't happen.
Search engine algorithms demand that you create valuable, quality content. Without quality content, there is no concept of better search engine rankings.
Website optimization demands that after creating focused content you distribute that content using social networking channels. In content marketing, you actually do that.
Web page optimization best practices demand that you cover all your keywords and search terms. When you're writing good quality content that solves people's problems, you're automatically covering all your important keywords and search terms. So there.
Content marketing for SEO is basically the long-tail SEO strategy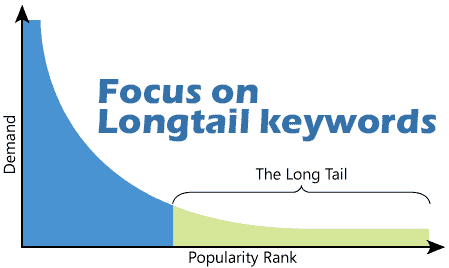 For many years now, it's been advised that you focus on a long-tail keyword strategy when optimizing your website for search engines. This is because people don't search for exact keywords. As I have explained in my above-linked blog, if you have a flower shop, people are not going to search for "flower shop" on Google. They will be looking for "online flower shop for immediate delivery" or "online flower shop for the best red roses" or something like that. People these days use long phrases. They use questions.
This is exactly what you do in content marketing. You provide answers to people's questions. This is long-tail SEO.
My content marketing for SEO services
I have a long experience providing content marketing services for SEO. Although I don't specifically provide search engine optimization services, most of my clients are small businesses and their primary concern is improving their search engine rankings. Brand presence and inbound marketing from other sources are definitely aspects that they would prefer, but for immediate needs, they need content marketing to get better search results for their websites.
My search engine optimization-oriented services include:
Keyword research
Competition analysis
Writing and publishing keyword-optimized content without keyword-stuffing
Analysis of the Google analytics data
Auditing of the existing content
Writing longtail content
Monitoring social media updates
I provide premium quality content for your content marketing for SEO needs. If you need lots of content I have a team of writers working with me. I can easily scale my services according to your business needs. For more information, contact me at your convenience.