There are different factors that influence your SEO, but one of the strongest is content writing.
Ultimately, how your content is written, has the biggest impact on your search engine rankings.
SEO localization may have different context for different people and just so that there is no confusion, on this page, when I talk of SEO localization, I don't mean localizing your content in another language.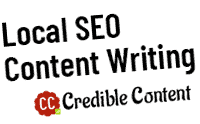 That is altogether a different service. Recently I was writing for a client who provides SEO localization services but, in his case, it means translating content in multiple languages and thenceforth improving SEO.
On this web page I am explaining my services for writing SEO content to improve your local search engine rankings. I still write content in English. But I can help you improve your search engine rankings locally. I hope you understand the difference.
Looking for a content writing service that can help you with SEO localization?
SEO localization, or local SEO, is needed to improve your search engine rankings to make it easier for people to find you geographically or region-wise.
Local SEO doesn't always mean working for a business that is restricted to a street or a small area of 5-10 km².
It can also cover a city, a state or a region. The point is, if you want to be found by customers and clients from a target geographic location, they should be able to find you, and not just find you, but find you before they can find other businesses providing the same products and services, in the same geographic location.
Suppose you provide web design services to businesses in Los Angeles.
In terms of web design services, there is nothing particularly distinguishable in the search term itself.
If someone searches for "web design services" he or she will come across literally millions of web pages, blog posts and websites talking about web design services, and not necessarily from Los Angeles.
Hence, to enable people to find your web design services in Los Angeles, you must mention this fact when writing content.
On Google, if you search for "web design services in Los Angeles" you get approximately 581 million results. Of course, you're not going to go through all these results.
You may not even go beyond the 2nd page.
After conducting the search, you will notice that more than 50% of the first search results page is covered by paid advertisements and the local businesses Google Maps listing.
After that, almost every listing has "Los Angeles" in it. Hence, the SEO experts and the content writers who have worked for these websites, know the importance of using the name of the place or the region for better SEO.
The problem is, there may be hundreds of web design services in Los Angeles. Does your company list within the top 20 results? Top 30 results?
If it doesn't, you need content writing services for SEO localization.
With my SEO content writing services, I will help you improve your search engine rankings compared to other businesses in your locality or geographic region.
You see, the problem is with the number of people or businesses competing with you.
There is no exact science of improving your global and local search engine rankings. But a trained content writer knows how to optimally incorporate your primary and longtail keywords into your text.
"Optimally" is the point where most of the SEO content writers falter. They don't know where to begin and where to end.
SEO content writing is a double-edged sword: it is highly beneficial, but when done wrong, it can cause irreparable harm.
The problem is, you don't even realize that it is causing you irreparable harm unless it has harmed you.
Through years of content writing I have gathered enough experience to strike a balance between using keywords and maintaining the quality of the writing.
I have realized that the quality of the writing comes first, and the incorporation of the keywords comes second.
Keywords are important. They cannot be neglected. They cannot be omitted. Nonetheless, they shouldn't decide how you write.
It is your message that decides how you write. Then, you use the keywords to write what you want to write.
Can I guarantee 100% local SEO?
As far as content goes, yes, anywhere between 80-100%.
The actual search engine rankings?
Your actual search engine rankings depend on:
The age of your domain.
The amount of content that you have.
The quality and relevance of your content.
Source code optimization.
The frequency with which you update your content.
The number of authoritative backlinks you have.
These factors act together to give you better search engine visibility.
Your content rules the roost and without quality content you cannot ever hope of improving your SEO.
Nonetheless, good content helps you only till a certain level.
You also need other SEO attributes whether you want to improve your local SEO or global SEO.
How can I help you in SEO localization with my content writing services?
Frankly, local SEO isn't much different from general SEO.

No matter how you want to improve your search engine rankings, no matter why you want to improve them, ultimately, it all boils down to the quality of your content, and this is something that I can assure you.
I can deliver
Subject-specific high-quality content.
Region-specific content writing.
Regular updates improving your keyword density for local SEO.
Conversion-rich content around primary and longtail keywords.
Ongoing blog posts.
Authoritative articles and case studies.
Want to know more about my content writing services for SEO localization? Contact me today.