On this webpage I'm going to give you a list of my content writing services & copywriting services.
"Content writing" is a recent expression and it evolved when writers started offering their services to write website content.
What does content writing mean?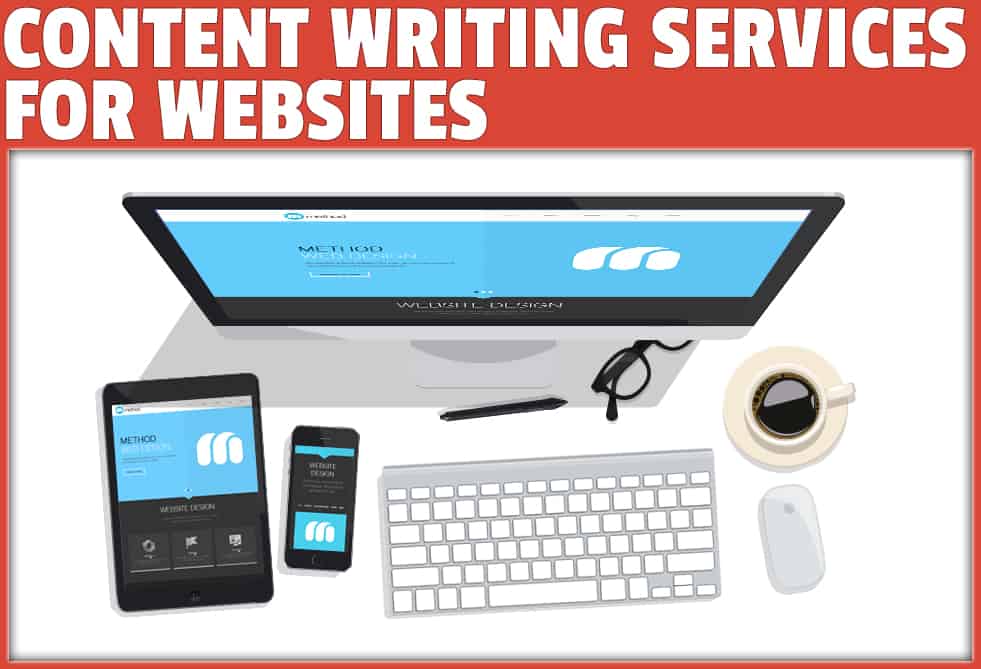 In the current context, it specifically deals with writing for websites and blogs.
Content writing is often mixed up with online copywriting but I prefer to draw a strict distinction between both the realms.
Whereas copywriting is sales copy, content writing tends to provide you information that you need to make up your mind.
Read: Website copywriting services
You may say that copywriting also does that but its sole purpose is to either generate a lead or a sale.

Content writing informs you.
It educates you.
It engages you and encourages you to visit the website or the blog on regular basis.
It also improves your SEO.
Before I go further, here is a quick list of the content writing services that I provide:
Webpage writing – about us, company page, product or service descriptions, everything else that describes your business to prospective customers and clients who are browsing through your website.
Blogging – regular blog posts to improve your SEO and keep your visitors engaged and informed and also to help you establish your authority over your subject.
Press release – informing the public at large about the new service that you have just launched, or a new app, or any other development you want people to be aware of.
E-book writing.
Writing case studies and white papers.
Email updates.
Informational articles.
Speech writing services
Video scripts – scripts for the video marketing campaigns that you want to launch on YouTube and other video hosting websites.
Technical writing – communicating intricate concepts in easier language and even jargon-ridden language.
Social content – writing posts for Facebook, LinkedIn and Medium.
Reviews – reviews of gadgets and services.
Business writing – brochures, research reports and other professional communication.
Content curation – curating content from other websites and blogs and generating new content based on them with unique feedback.
Any other writing it can also be added to this list of content writing services.

Basically, whenever you need a writer who can convincingly articulate your message in digital format, you can hire me as your content writer.
How can the list of my content writing services help you?
On the Internet, everything is about content.
Mostly written content.
Although Cisco has predicted that by 2020 80% of web traffic will be video-related, when it comes to doing business on the web, it is the written word that does the job for you.
Writing for a business website is different from casual writing or even academic writing.
When you are writing for your business website, you need to take care of the following:
Your writing is easier to read.
It is well structured.
It conveys everything that needs to be conveyed to convince your prospective customer or client.
You publish regularly to give fresh content to Google.
You writing is a mix of casual and professional.
Many people can write.
Recently when a client sent me a draft for a blog post, it was so well-written that I suggested her to write it completely on her own because she would do a better job.
It doesn't mean I couldn't write for her and I couldn't handle the topic, it's just that, she was doing a better job of it, something like, straight from the horse's mouth.
Similarly, many clients can write well but they need someone who can write well regularly.
A person who is not a professional content writer often finds it difficult to write exceptionally well on a consistent basis.
He or she can work on a topic, occasionally, but not regularly.
As you can see above in the list of my content writing services, there are various forms of content writing requirements when you are running a business, especially on the web.

As an experienced content writer with a long list of content writing services that I can provide, I can easily mold my writing according to your need.
For website content I can keep it a mix of erudite, professional and casual.
For a blog post I can keep it completely casual but educational nonetheless.
For a white paper, I can keep it technical and scholarly.
For an email message I can keep it conversational and engaging.
Being an experienced writer, I can adopt various writing styles easily.

Hence, even those clients who can write well hire my services for versatility, quality and regularity.
How is the list of my content writing services different from my copywriting services?
I briefly touched upon the subject of the difference between content writing and copywriting above.
Want someone to write high conversion landing page?
Want someone to write a sales copy for your email campaign?
Want to write a brochure?
These are all examples of copywriting.
Copywriting is an old profession.
The writers who work in advertising companies are called copywriters.
They write ad campaigns.
The sole purpose of copywriting is to increase your sales (or get you more leads).
It has a call-to-action.
It has a strictly-defined purpose.
Take an example of two landing pages of the same business (refer to the image below)
Although both the landing pages talk about content writing and copywriting the purpose of each landing page is different.
For landing page A the purpose of the entire copy will be to convince you into hiring my content writing and copywriting services.
For landing page B the purpose is to convince you to download the e-book that gives you some knowledge of content writing and copywriting.
The purpose of landing page B is either just to make people download the e-book, or sign up for your updates in return of being able to download the e-book.
The tone and the style of copywriting will be completely different for both the landing pages.
This is something that an experienced content writer or a copywriter can achieve which might not be possible for a person who can, although write well, serves another industry.

Need a writer but your requirement doesn't feature in the above-mentioned list of my content writing services?
When it comes to expressing convincingly, I can help you with that.
Don't know how to write well?
No need to worry – writing is not your profession so it doesn't matter whether you know how to write or not (but you are an excellent architect, for example, or a cook, or a real estate developer).
Whether you need something in the list of my content writing services, or something altogether different, as long as it is about writing, I can help you with that.