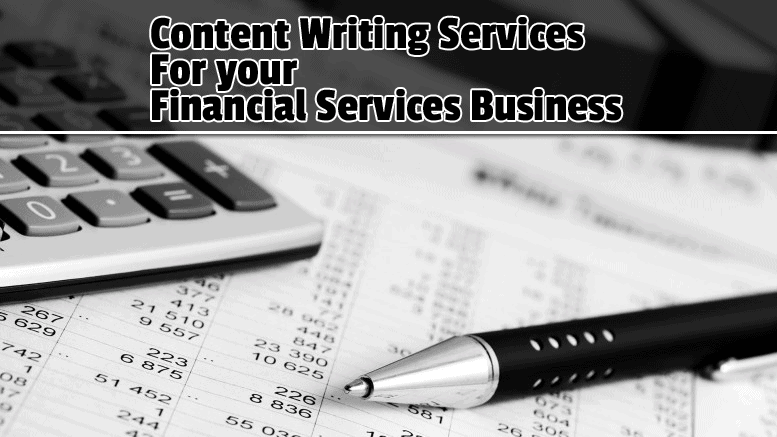 Are you looking for a content writer or a content writing service for your financial consulting services business?
Need an experienced writer to write on finance-related topics?
Many financial advisors these days give advice to their clients online and the best way to find new clients is through high quality content on your website.
As someone who has been providing professional content writing services for many years, I understand the importance of trustworthiness and dependability, not just in the world of financial consulting, but in every business.
Financial consulting services is a high-stakes business.
People bet on you with their money.
They trust you with their money.
They trust that you are going to help them make more money.

I can help you with the following categories of content for your money management advisory services:
Blog posts.
Informative articles.
SEO content writing.
Landing page copywriting.
Website copywriting
Email copywriting.
Case studies.
White papers.
Research-based content.
E-books.
Educational material.
Content writing services for financial advisory industry
As I have already written above, finance is a high-stakes sector.
The size of the financial planning and advisory industry in the US itself is $ 57.2 billion in 2020 (source).
Financial advisers and consultants provide different services such as investment management, tax planning, accounting, business management and estate planning.
So far, I have written content for
Investment advisors.
Tax consultants.
Portfolio managers.
Accountants.
Insurance agents.
Personal finance coaches.
Credit and debit consultants.
Business Finance consultants.
Whether you're looking for powerful ad copy for your landing pages or simply high-grade information to publish on your website or blog, I can provide you tailored content writing and copywriting services.

Do you have different financial products that you provide to your clients?
I can write product descriptions and services pages. I can also write your company profile.
I can write authoritative content in the form of financial White papers and case studies.
These days I'm writing content (at the time of updating this web page) for a financial advisor who helps people nearing retirement save up enough money to spend a financially secure old age.
You can very well imagine, what degree of trust is required to act upon the advice of such a financial consultant on whose advice and intelligence depend your post-retirement years.
Merely having a website doesn't make people trust you with their money.
Through high quality content, you can always remain in front of your prospective clients.
They find your content when they voluntarily visit your website.
They find your content when they are searching for relevant information on Google or other search engines.
They come across your content when people share your links on their social media and social networking timelines.
You need to engage them by constantly publishing high-quality content on your website (preferably under your blog) and draw people to your website based on the strength of your content.
You need to build unshakeable trust.
The trust comes when they read what you have published on your website.
The trust comes when you provide them exactly the information they are looking for.
The trust comes by regularly keeping in touch with your prospective clients through your blog and mailing list.
You need to give people high-quality content to make them trust you.
If they don't like the content writing, they don't trust you.
Your financial consulting services website must have high-quality, well-written and convincing content to make people trust you with their money.

Do you need a financial consultant as a web content writer?
Not necessarily.
You need a web content writer who can articulate well.
He or she should be able to put your point across without a salesy tone.
Expert financial blog writing services
Am I an expert in finance? I will be frank, I am not.
But, for years, I have been providing financial blog writing services to financial consultants and people who provide money-saving advice to their clients.
Then what is my strength?
My strength is that I can research and come up with quality content for your financial blog.
I am an experienced writer. I provide writing services to a wide range of industries.
When my clients hire me for my financial blog writing services, sometimes they give me material that is relevant to their field.
They also give me a list of phrases and keywords that they want me to use when I'm writing blogs for them.
All the relevant information is already available on the Internet.
I'm good at research. I can find the relevant information in no time.
A lot of information also comes from my clients.
The point I'm trying to make is, if you need someone to write for your financial blog, though, it's up to you, you don't necessarily need to hire someone who is an expert in finance writing.
You need a good writer. You need a writer who can write in a conversational style. You need a writer who can convince and reassure your readers.
You need a certain level of expertise (that I can easily incorporate), but you also need you need engaging writing for your financial services blog. I can provide you that.

When you contact me for my finance blog writing services, I will give you samples – the previous write-ups that I have delivered.
Content on your financial consulting services business website should be written from the perspective of your clients.
My approach is always from the client or the customer onwards.
Eventually, it will be your clients who will be visiting your website and reading your content and then making decisions accordingly.
All the information that exists on your website exists for the benefit of your visitors and your prospective clients.
Why Credible Content is better for your financial consulting services business website?
I totally understand when it comes to providing financial services to your clients, you are the expert.
I cannot know what you know.
Your livelihood is providing financial consulting services to your clients.
My livelihood here, is writing compelling content, high-quality content, content that can get you better search engine rankings.
I will obtain all the necessary and factual information from you and then write content using that information.
While writing, I will use a language that is easily understood by your prospective clients.

My writing will be professional, of international standards, and devoid of the casual spelling and grammar mistakes.
You will get original and unique content.
I don't believe in providing uninspiring content writing services. Your writing must have a personality.
Your content must be written for a persona. Persona means the attributes of your ideal customer such as
Age
Gender
Income
Business type
Designation
Educational experience
Spending habits
Language
Region
The list can go on and on. These persona attributes will be specific to your business and you may have different attributes.
Your entire content will be written keeping pre-defined persona attributes in mind.
Do you want to improve your search engine rankings?
As a financial consulting services business do you want to draw traffic from search engines?
Regularly publishing high-quality content on finance-related topics can significantly improve your search engine visibility.
If yes, you definitely need to improve your search engine rankings for your target keywords and search terms.
While optimizing your content for better search engine rankings you should use a language used by your prospective and current clients rather than what you think the language should be.
A big problem with the usual financial consulting services websites is that they get too carried away by their expertise.
They constantly use terms and jargon normal people cannot easily understand.
Remember that you don't want to "impress" people; you want to help them.
You want to provide them the information they are looking for so that they can make an educated decision.
Of course, where certain terms need to be used, they should be used but then these terms should also be explained to those who don't understand them.

Your search engine rankings will improve if you provide answers to people's questions.
For this you will need to figure out what questions people ask when they want to use a financial consulting service.
Why do they need your service? What are the benefits of working with you?
What are their fears and apprehensions? What are the bad experiences they have had before and how do you plan to make sure that those experiences are not going to repeat?
If your prospective clients want some technical information without having any prior financial background, can they get it from your website in an understandable manner?
They may search for financial consulting services that manage very specific portfolios.
They may want to know what all services you provide.
To improve your search engine rankings you will need to prepare a comprehensive list of questions and queries that people may use to be able to find your website, or the appropriate web page or blog post on your website.
What will you get for your financial consulting services business if you partner with Credible Content?
Search engine optimized content
Engaging, compelling content
Higher conversion rate
Writing in international standard
A judicious mix of understandable writing as well as technicalities, wherever needed
An ongoing supply of content to keep you ahead of your competitors
A content writing and content marketing service you can trust and rely on for a long-term collaboration
Are you ready to change the way people perceive you on the web? Contact me for more information.