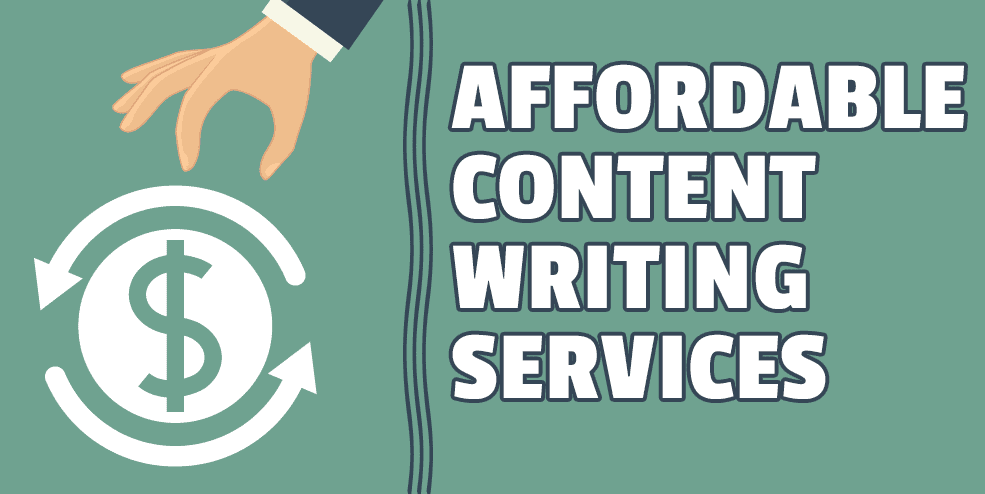 Are you looking for affordable content writing services for your business?
We can provide you the following content writing services for your business:
Web content writing services
SEO article writing
Product and service descriptions
Social media marketing content
Long-term SEO content development
Online copywriting services
SEO copywriting
Email marketing content
Landing page copy
Blogging services
Information articles
Press releases
Case studies
E-books

Although at Credible Content we don't compete on pricing, as our aim is to make content writing affordable to as many businesses as possible without putting ourselves into a financial fix.
You see, most of our writers are full-time content writers and hence, they need to make a living if they want to go on creating high-quality content.
There is a big difference between being affordable and being cheap. We certainly don't provide cheap content writing services. Cheap content writing services neither help your cause nor ours.
Affordable content writing services, on the other hand, means, giving you high-quality content without making you pay through your nose.
We don't bring down our cost compared to other content writing services by generating inferior content, we try to make our processes as efficient as possible.
We have got writers who work faster. They research well. They are good communicators. They are experienced, so they can understand your business needs faster.
Content writing services, as the name goes, are services.
They cannot be automated. They cannot be replicated. They cannot be duplicated also.
Every business requires unique content.
Every time we work on an assignment, we work from scratch.
Every web page, every blog post, every landing page, every information article, is handcrafted.
On an average, a web content writer makes a serious living off writing content, has to spend anywhere between 1-3 hours working on a document.
Our web content writers come from different countries and different continents.
We don't restrict ourselves to providing web content writers from countries where the cost of living is allegedly low compared to Western countries just so that we can provide cheap content writing services.

How do we provide affordable content writing services?
Just as we have content writers from different countries, we get content writing assignments from different countries.
Right now, one of my content writers is working on two projects from Ghana. We are writing content for a client in Egypt. There are a few clients from India. There is a company in China for whom we are writing product descriptions.
Of course, we have got our regular clients from the US, the UK, Australia, France and Norway.
So, what we do is, instead of providing our content writing services according to the cost of living of our web content writers, we provide custom quotes to our clients according to the cost of living of their respective regions and countries.
Hence, an affordable content writing service for someone living in the UK might be different from an affordable content writing service for someone living in India, or, in Kenya.
$25 for a blog post for someone living in the US is pittance, but the same amount when converted to Indian currency, becomes (according to current exchange rates) ₹1600, which is steep for an average Indian client. So, we make our content writing services affordable by charging our clients from different countries according to their currencies and their cost of living.