Wondering how much on an average website content cost is?
How much do our content writing services cost?
How much does a content writer charge? How much money does he or she take to write quality content?
If you're planning to hire a content writer, what's going to be the content writing cost?
Is it good to pay content writing rates per word, per page, or per hour?
On an average, if your website has 5 pages including the homepage, the total content writing cost for your website may be around $100 (+10% payment processing fee). At Credible Content My average project is around $200.
My website copywriting rates hover around this number normally. Though, I charge slightly more for copywriting.
I have set my professional website content writing services rates keeping multiple factors in mind, including
Subject matter (specialty content costs more and non-specialty content costs less).
The content writing and copywriting cost also depends on the time it takes – sometimes lots of research and pre-drafting is required.
I make it a point never to take up assignments that don't offer a decent rate because then it has a direct impact on the quality of the content that I deliver.
I spend a great amount of time making sure that I deliver quality content.
There is writing, and then there is writing.
My primary focus is quality content.
I never compete in terms of pricing.
I never set my content writing rates based on what other content writers and other content writing services are charging.
Sometimes I also work with writers who come from all over the world.
Hence, the cost of writing content depends on your expectations and the writer you want to work with.

If you want to know the true cost of a professional writing service you first need to figure out…
Why do you want to pay for a content writing service?

The following might be the reasons why you want to pay for a professional content writing service:
You need well-written, high-quality content for your website.
You want to improve conversion rate on your website and therefore you need convincing and compelling content that can only be written by an experienced and professional content writer or copywriter.
You want to improve your organic search engine rankings through SEO content writing.
You want to publish content on your blog or your email newsletter regularly, to build your brand.
When you are ready to bear the content writing cost it means the service is valuable to you or your business.
You cannot perform the service on your own.
So, since it is valuable, you are ready to obtain it by paying for it.
You are eager to pay the cost because the benefit is going to be immense.

Why does the cost of professional website content writing vary so much?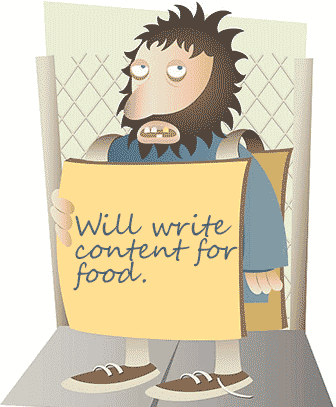 Frankly, these days it is very easy to find a content writer.
But, it is very difficult to find a good content writer.
Providing content writing services is extremely easy.
Just create your account on one of the freelancing websites, upload a few random samples and there you have it.
Since most of these, the so-called content writers, don't provide content writing services as their main livelihood (they are normally between jobs or simply whiling away their time), they charge arbitrarily.
Their content writing rates are haphazard and they change from client to client.
In order to get more work they keep the tentative cost as low as possible.
Their primary aim is to get the project.
Very few projects are completed and most of them are simple waste of money because the quality is deplorable.
Tragically, very few business owners can distinguish between a content writer and a good content writer.
Since they don't know the difference, the cost of professional website content writing is set randomly by the service providers.
This is why you see so many differences in the professional website content writing costs.

How do I decide the rate of content writing for your individual website or blog project?
It depends on many factors, but the most important thing is the quality of the website content you want.
With the latest search engine updates like Google's Hummingbird and Penguin, cheap content no longer pays dividends, and in fact, it costs you more money – in terms of lost business opportunities.
Wondering how cheap content writing services cost you more?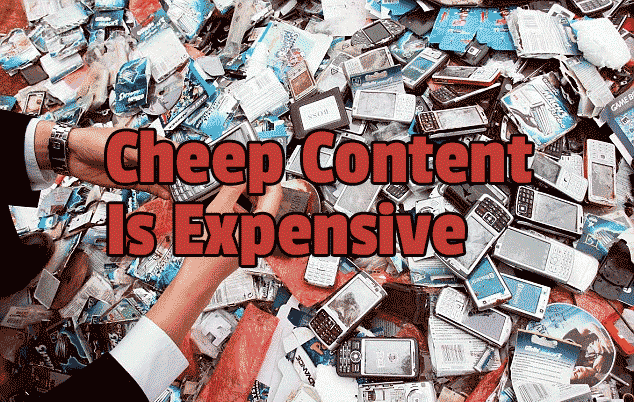 Ever heard the phrase: "I'm too poor to buy cheap"?
Whoever said that knew that going for cheaper options is always expensive.
This phrase fits perfectly with content writing.
When you go for cheap content you get trapped in a vicious loop.
The content is totally useless, so you get more cheap content and then you have more cheap content that is useless.
You spend lots of money getting lots of cheap content, resulting in nothing.
Quality content on the other hand reaps you good results.
One high-quality web page or blog post is far better than 40 low-quality web pages or blog posts.
Of course the cost of professional website content writing services is higher compared to a cheap content writing service but you are getting value for your money.
Think it this way: when you get professional web design there is a cost attached to it.
Even if you get your website designed from one of the affordable web design companies, there is at least some expense that you will bear.
This is because you know that without a website you can have no online presence for your business.
Just as you need various elements – layout, fonts, rows and columns, header and footer, logo, sidebar, professional images – you also need high-quality written content because ultimately it is the content that does the talking and convinces people into buying from you.
So, without high-quality, well-written content, your website is incomplete.
What is justifiable cost for website content?
Frankly, there is no justifiable cost.
It all boils down to the quality of content that you want for your website, where your content writers live, and how much content you want, how frequently.
The cost of professional website content writing services depends on the following factors:
The level of expertise required
The level of quality needed
The frequency of content updates
The amount of content your website requires
The ability and experience of the content writer (or agency) you are planning to hire
Since at Credible Content I normally work with small to medium-sized businesses I break up the cost for you accordingly here.
Assuming you decide to work with me for writing your website content.
Let's say you have the following sections for which you need content written:
Homepage
Services

Service 1
Service 2
Service 3

About us
I charge an hourly rate as well as per document rate. The cost may vary according to the prevailing economic conditions, but these days I am charging $18 per hour.
If I take 5 hours to complete all the drafts and an extra hour to implement some more changes suggested by you…
The total cost is going to be:
6 x 18 = $108
If you want to pay per page, it'll be
Homepage = $20
Service 1 = $20
Service 2 = $20
Service 3 = $20
About us = $20
Total (according to per page) = $100
(An extra 10% processing fee is applicable to every payment)
So my website content writing services are going to cost you round about the amount calculated above assuming you have 5 pages.
This is, assuming you have 300-500 words. After that, it is $5 for every 100-word bracket.
If you have more pages, you can calculate the cost accordingly.
Similarly, if you want to pay me per blog post, it will be $30 per blog post.
Please keep in mind that if your blog writing requires lots of research I bill you according to my usual hourly rate rather than per blog post rate.
Want me to set up your WordPress blog? This is what we charge for setting up a complete WordPress blog.
Want more details about the cost of my professional content writing services? Do I have a content writing rate card? Yes, we do.