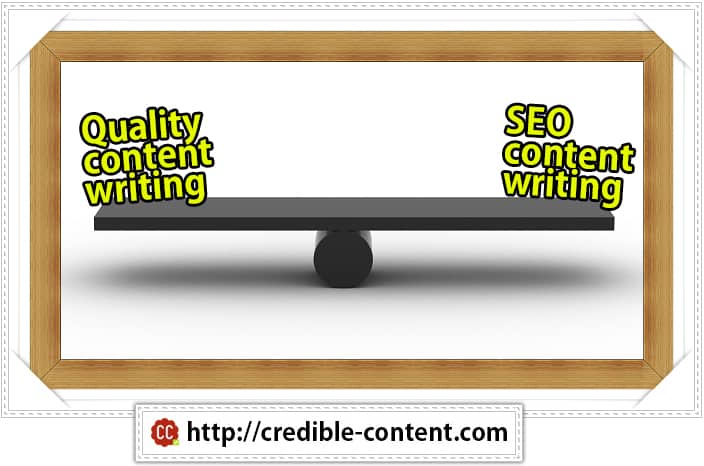 I'm writing this blog post because people ask about this: how to create SEO content while maintaining the quality of the content? But they are not separate. If you practice quality content writing, the SEO part handled on its own.
These days, SEO doesn't mean creating keyword-rich content. I don't mean to say that you don't use your keywords when writing content, because keywords are important. But they are not the only thing that matter. Other things that matter are:
The quality of your content writing.
The depth of information and wisdom that you have shared.
The usefulness of your content writing.
The approval and endorsement that it attracts from people.
The collective competition your content writing faces.
The quantity of quality content writing that already exists on your website or blog.
All these attributes are necessary to get good search engine rankings. Without them, no matter how hard you focus on your keywords, you're not going to get much headway.
As I have written above, keywords matter. If you are spending sleepless nights thinking how to strike a balance between SEO and quality content writing, here are a few things you can do to give yourself some peace of mind:
Create a list of your primary and secondary keywords. Take a printout of them. Keep them in front of you when creating content for your blog or website so that you never lose sight of them.
Create vertically focused webpages and blog posts. Don't try to cramp too much into a single webpage or blog post. Handle one topic at a time and pack as much information as possible on that one topic. Create bulleted lists discussing various aspects of the topic. Create hyperlinks wherever possible. Make ample use of headlines and sub headlines. Provide as much information as possible without sounding repetitive. Don't insert needless sentences just to accommodate your keywords. Your keywords will be covered if you already talk about your subject.
Give precedence to quality content writing. When you are preparing your first draft focus on the quality. Write well. Collect all the information you can collect. Create concise, simple sentences. Organise the information in a scannable manner. Use a language that your core audience can understand. What I mean to say is, totally focus on quality in the first draft.
Then, strategically, start inserting your keyword. They must appear natural. Try to create headlines and some headlines with your keywords. Try to use your keywords in the information that you present in bulleted form. When linking to other webpages and blog posts on your website through hyperlinks, use your keywords in the anchor text. When inserting images, name your images using your keywords. Use your keywords in the alt text of your images.
There is only this much you can do to "SEO" your content writing. Mostly it depends on the quality of your writing and the competition your writing faces.