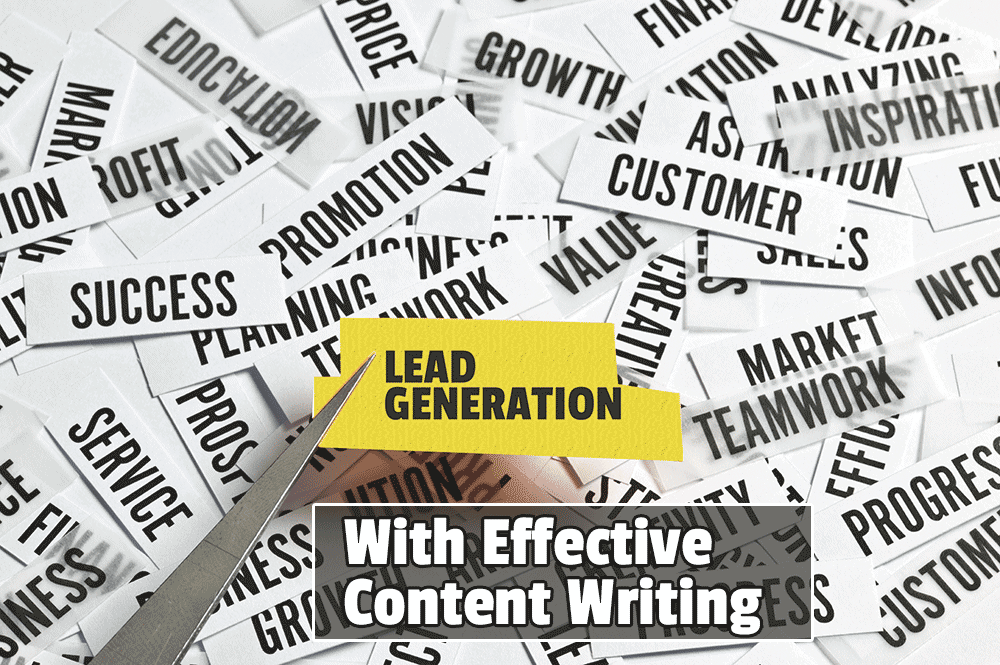 Lead generation is very important for every business. Effective content writing can help you increase leads on your website.
What is lead generation?
What are different lead generation methods?
Leads are people who haven't yet become your customers, but they have shown interest in your product and they have also left their contact information with you.
You can get leads from your own website or blog.
You can also purchase them from websites that sell leads.
You can randomly collect them using various means at hand.
The most effective way of getting leads is from your own website or blog because then people are actually looking for your product or service.
Additionally, since they have visited your website or blog, they already know that you provide that particular product or service.
But how do you generate leads from your website?
How do you make people either contact you or subscribe to your mailing list so that you can keep in touch with them and send them your offers?
It can be done with effective content writing.
B2B lead generation especially depends on high-quality content writing.
Direct relationship between effective content writing and lead generation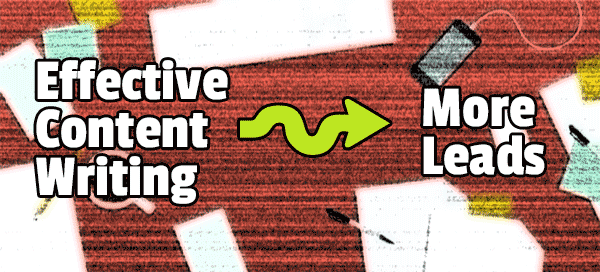 When people don't want to buy immediately, they're looking for information.
They want information that can help them decide.
Sometimes they don't even know what they are looking for: they simply know that they have a problem. They know they need a solution, but they don't know what is the right solution.
Looking for a solution, they come to your website. They find a solution.
If they were looking for an answer, they find it on your website.
This is how effective content writing works.
They haven't yet made up their minds, but they really like the content that you have published on your website. They get the idea that you know your stuff.
They would like to keep in touch. They would even like to contact you for more details about how they can use your product or service or how your product or service can solve their problem. They become your leads.
This, is where your content writing plays a very crucial role.
Read How to improve your content writing by properly understanding your customers.
When someone comes to your website, published words do all the talking.
Whether you have written a single word, a single sentence, a single paragraph or 1500 words explaining why the visitor should do business with you, it is your writing, your text, that is solely responsible for generating leads and getting you new customers.
If your content writing doesn't impress your visitors, they go away without reading even a single sentence.
Your entire lead generation process goes for a toss.
If your writing is not good – if the style is uninspiring and there are lots of grammar and spelling mistakes – they think you are unprofessional and hence, shouldn't be trusted with their business.
If your writing is good but it doesn't provide what your visitors are looking for, they go somewhere else.
If your content misleads them into visiting your website, they leave immediately, making a note that they never come back, and also warn the others.
Again, it's your content writing that keeps them on your website, and communicates to them your intent.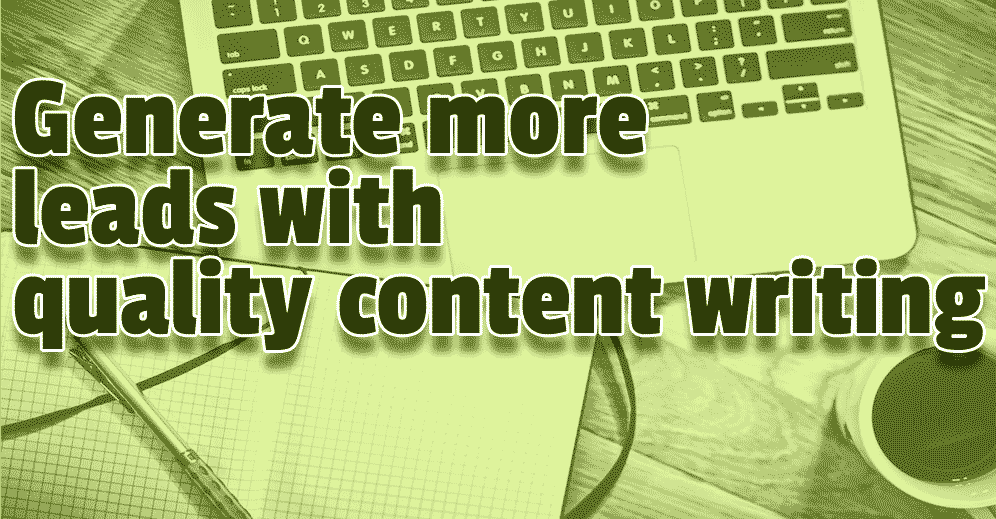 How to write effectively to generate more leads?
How does effective content writing help you generate leads?
The entire purpose of having text on your website is to provide solutions to people's problems.
When your prospective customers or clients come to your website, they expect that you
Understand their problem
Have a solution to their problem
Your writing shouldn't act as your advocate.
Your writing should act as your  prospective customers' and clients' advocate.
Address their need. Put them at rest immediately.
Let them know you've got the solution to their problem.
Here are a few points to keep in mind when writing content for lead generation.
Define a clear persona
Defining a persona – the ideal person you are writing for – allows you to write for a person you understand.
It's easy to write in a conversational style when you know whom you are talking to.
Understand what sort of person would like to buy your product or service.
A particular persona may have the following attributes:
Income
Age
Gender
Nationality/region
Occupation/business/designation
Marital status
Language comfort
Other specifics related to your business
Having a persona is like the person is sitting in front of you and you are talking to him or her.
When you write in a conversational style, your visitors feel as if you are talking to them.
They become more comfortable.
They are more amenable to absorbing your message, paying attention to it, and responding to it.
Even your messaging is more targeted when you write for a pre-defined persona.
Keep your web pages and blog posts narrowly focused.
If possible, provide one solution, one answer per link.
Don't try to cram multiple issues into one URL.
For multiple topics create multiple web pages or blog posts. If those web pages or blog posts already exist, link to them.
When you focus on a single topic your readers feel contented.
They come looking for a particular answer, a particular solution, and they find that solution on that link.
If you handle multiple topics in one go, it confuses people.
In confusion, or when they are overwhelmed, they leave your website.
On many web pages and blog posts I've observed, just to be able to create very long pieces of content, writers and publishers cram lots of information on a single link.
They will have charts and graphs and scores of paragraphs and they go on and on until the reader is exasperated.
If I want to improve my search engine rankings, I don't want to see 15 charts and graphs of how many people want to improve their search engine rankings. Just give me the damn information if you have it.
This is why, it is very important to clearly define the propose of the web page or the blog post you are about to create.
What do you want your visitor to achieve by the time he or she has gone through this particular piece of content.?
For example, once you have read this blog post, I want you to learn how to generate more leads on your website or blog with effective content writing.
Convince your visitors that high-quality content publishing on your website is an ongoing thing
Why would people leave their contact details if they don't expect to hear from you again?
I don't say leave them hanging, but whenever you are solving problems for them, tell them that you can solve more problems and hence, you should be able to keep in touch with them.
At every opportunity let them know that you publish quality content regularly and they shouldn't miss any of it.
Tell them that you send out offers that shouldn't be missed.
Let it be known to them the benefits enjoyed by your other mailing list subscribers.
There should be multiple call-to-action elements prompting your visitors to either contact you or subscribe to your mailing list.
Write in a language people use to seek you out
A nice way to know what language and expressions people use is to track your traffic using some analytics software.
You can use the Google Search Console (previously known as Google's Webmasters Tools) to track what keywords and search terms bring people to your website.
Then you use these keywords and search terms to create more content on your website or blog.
People respond better if they find content that is written in a language they are comfortable in.
Avoid jargons and very difficult words that people don't use in their day-to day lives.
So, basically, these are the traits of effective content writing for enhanced lead generation:
Conversational writing style
Using language used by your visitors
Providing precise answers to precise questions
Solving people's problems without trusting your business agenda down their throats
Using call to action at appropriate places
Please remember that effective content writing for lead generation is not a one-off activity.
Stick to quality content writing.