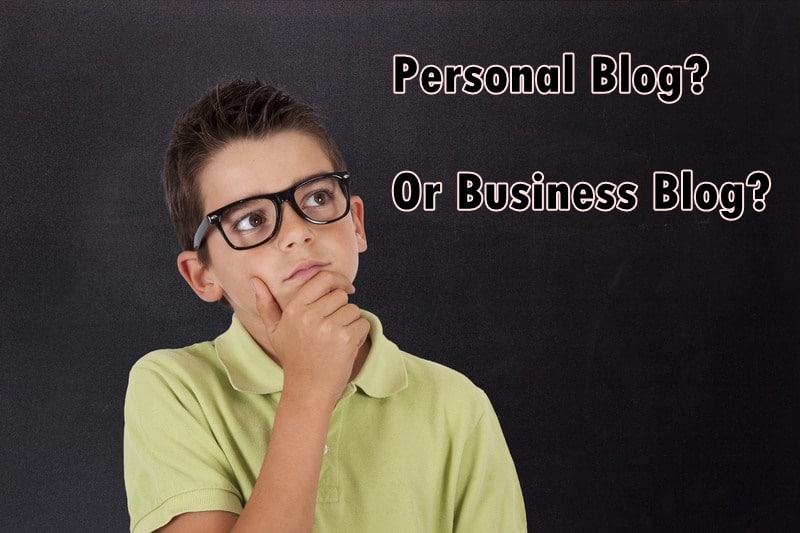 A long, long, long time ago when people started blogging, it was completely personal. Many blogging services called themselves "journals", for example, Livejournal. People wrote about personal stuff. Yours truly had a blog on web design, and I used to manually upload the HTML pages in an "articles" folder and then manually update the index file.
Search engines like Google gladly lapped up blog posts because people created them in droves and soon blog posts began to rank higher than the website. This is because the search engines have this insatiable hunger to crawl and index and then rank as many links as they can find. The more links there are in the world, the happier the search engines are. To their great delight people observed that blogs enjoyed better search engine rankings than conventional business websites. It was not that the search engines preferred "blogs" over websites, it was just that for their algorithms, the content arranged by blogging platforms was more amenable. Because basically, what do search engines like?
Lots of content.
Constantly updated content.
Topical content.
Relevant content.
Socially promoted content.
All these traits were found in blogs.
This, was the inflection point where people started publishing blogs for their businesses to get better search engine rankings. They actually did. Business websites with business blogs got better rankings than business websites with no business blogs.
Now, almost every business has a blog. The question these days is not whether your business should have a blog or not, the question is, how to fare better than other blogs.
So life has come full circle. Blogging started with personal blogging, and it's again being asked if you should have a business blog or a personal blog.
Both have their place in the world, and whether you should have a personal blog or a business blog depends on what you are trying to achieve. Are you developing a personal brand or a business brand? Does your audience want to connect with you or they don't mind interacting with a nameless entity as long as they're getting the information they seek?
Although it has been more than 15 years since people started blogging (in contemporary sense) – this is 2017 – it is still considered as one of the best inbound marketing tools. Have a look at the graphic below from SmartInsights: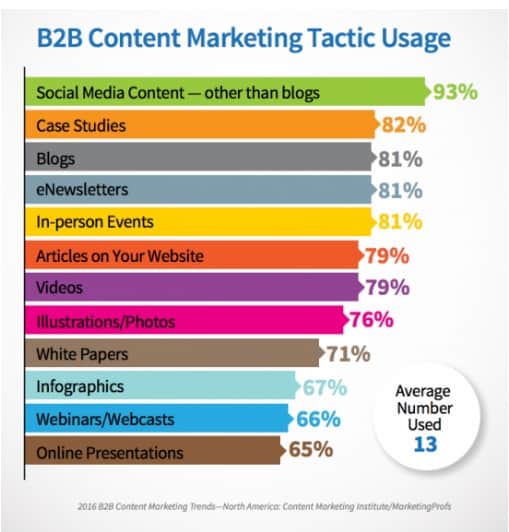 In more than 95% of the cases, if there is content marketing, if there is digital marketing, then a thriving blog is always there in one way or another. As you can see in the above graphic, 81% B2B marketers prefer to rely on blogs for content marketing and inbound marketing.
What are the similarities between a personal blog and a business blog?
Both personal and business blog are used to regularly communicate to your customers and clients.
Updates are arranged in a chronological manner with the latest update appearing at the top.
Content is arranged sorted by date in descending order.
Personal business blogs are theme-oriented.
Both personal blogs and business blogs are good for SEO.
A personal blog as well as a business blog can be developed into a platform with a huge audience that can be used to convey important messages or introduce new products and services.
Personal blogs and business blogs can be used to publish important content that does not fit into the main template of your website.
Communities can be created around personal blogs as well as business blogs.
What are the differences between a personal blog and a business blog?
As the name suggests, a personal blog may be used to promote a personal brand and business blog can be used to promote a business.
A personal blog can be more informal. You can write about your personal experiences, your personal opinions, your personal tastes and whatever catches your fancy (while sticking to the main theme of your blog). On a business blog there is less scope to be informal because your business blog does not represent an individual: it represents an entire organization. You have to be careful when you publish content or your business blog because it reflects on the entire company.
There is more engagement through a personal blog because your visitors personally know who is publishing the blog posts and what's the basic philosophy of the person behind the blog.
Personal blog can be totally personal where you try to explain why your cat leaves and comes randomly and sometimes makes weird faces. A personal blog can also be a business blog, for example this blog where, although I write in a personal style (mostly in the first person) all the time I write about my business. I don't talk of my political beliefs here; I talk about content writing and content marketing.
People normally stay away from controversial topics on their businesses blog because they don't want to offend the customers and clients. On your personal blog, if you want, you can piss people off. But then again, if you use your personal blog to promote your business, you have to exercise discretion (if you want to, that is).
If you want to decide immediately without much data, research and experimentation, then a personal blog works better than a business blog merely because blogging is meant to be personal. It's, mostly, a linear collection of thoughts, opinions, rants, or nuggets of wisdom around a particular topic, in a conversational, personal tone. This is the key…conversational, personal tone. This tone is more human, more personal, and ultimately, more approachable. There are many big companies that, although, have business blogs, for example Google and Facebook, they also encourage their employees to maintain their personal blogs.
But then again, in the end, what matters is, what sort of audience you are catering to.