Certainly B2B enterprises don't use content marketing to publish advertisements. They need to strengthen their presence on the Internet and consequently, raise brand awareness. A Content Marketing Institute and MarketingProfs study has revealed that (understandably these statistics are from the USA but they are quite a representative)
94% B2B small businesses are using content marketing
83% B2B small businesses use content marketing to raise brand awareness or at least have it as a goal for 2015
47% B2B small businesses plan to increase their content marketing budgets in 2015 and only 1% plan to decrease their budget
45% B2B small businesses engaged in content marketing claimed that they are effective at it
81% B2B small businesses are producing more content than they were a year ago
33% find producing engaging and quality content a big challenge
24% find it harder to arrange budget for content marketing
48% of the B2B small businesses have a documented content marketing strategy
Here is an updated list of 30 essential content marketing statistics for 2020.
The last point is very important. In order to be successful in content marketing, your organization must have a documented strategy. What does that mean?
You should know what you want to achieve from your content marketing strategy, whom are you going to target for that and what sort of content you need to produce in a given amount of time. On with the statistics…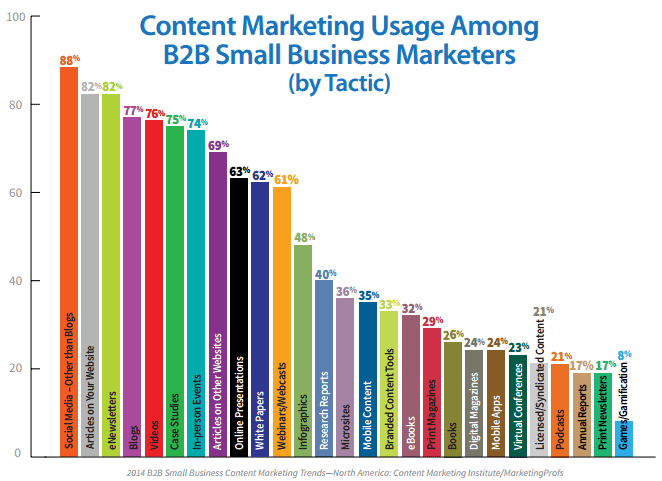 78% B2B small businesses have a dedicated person who oversees the content marketing strategy
On an average B2B small business marketers are using 13 content marketing tactics including social media content, blogging, articles on the websites and publishing email newsletters. The use of mobile content has risen from 27% to 35%. The use of infographics has risen from 39% to 48%.
Interestingly, people are using more electronic newsletters – 82% compared to blogs – 77%.
Graphic source: the PDF report above