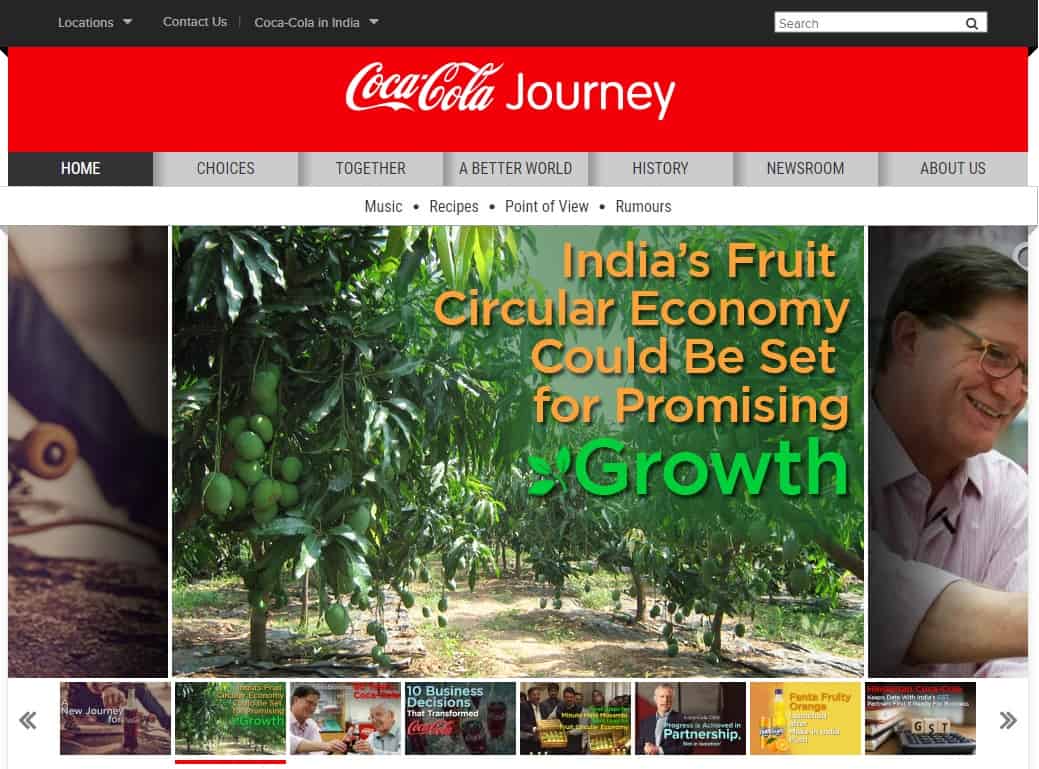 For a very long time Coca-Cola has had a very well-defined content marketing strategy. In fact, it is one of the first major company to openly declare a content marketing strategy. Here are the two YouTube videos the marketing and advertising division of the company released in 2011-2012.
As the introductory lines of this Marketing Week article on the Coca-Cola 2020 content marketing strategy says
Coca Cola no longer relies on traditional ad agencies for creative ideas, instead taking a collaborative approach to storytelling and content creation, according to its global advertising strategy head.
The article also reports Coca-Cola's vice president of global advertising strategy and excellence Jonathan Mildenhall…
All advertisers need a lot more content so that they can keep the engagement with consumers fresh and relevant, because of the 24/7 connectivity. If you're going to be successful around the world, you have to have fat and fertile ideas at the core.
A few years ago, Coca-Cola completely did away with its official homepage for the website and instead, started displaying the Journey magazine's homepage. The beverage company has been publishing its content marketing in many countries and now it is also introducing the magazine in India.
Since content marketing is all about telling stories, in its 2020 strategy Coca-Cola has decided to create stories. How can the company do that? By making positive impacts in multiple spheres.
It's like, create positive stories and then publish those stories in the magazine. Coca-Cola is an unhealthy drink so the company would like to change the perception. This perception can be changed by telling positive stories about the brand and about the product.
A long time ago I worked with a client who had the same philosophy for his content marketing strategy but somehow the team, including myself, were not very consistent so instead of becoming a clearly-defined strategy, it became a hodgepodge. The client constantly said that we should engage in different activities and then write about those activities on the blog, but neither the activities happened nor the writing.
So, if you go to the Coca-Cola India website, instead of the usual business website, you encounter the Coca-Cola Journey magazine's homepage.
Journey was an internal magazine that was originally published for the company's employees and stakeholders in the 1980s. When Coca-Cola decided to switch from conventional advertising to content marketing somewhere around 2010, the magazine transitioned into a globally available publication.