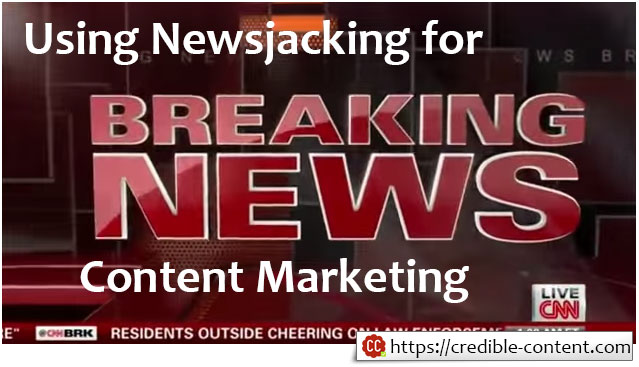 Recently I wrote about news content marketing and its benefits. Here is a related topic – newsjacking. I'm going to explain what is newsjacking and how you can give your content marketing effort a real thrust with it.
Newsjacking means using some breaking news to create content for your website or blog and generating buzz around it. Why do that?
Whenever a new story breaks people look for it. They want to read about it as much as possible. They want to watch videos related to the breaking news. For instance there have been lots of leaks and hacks and many celebrity photographs are being distributed all over the Internet. Although the companies are denying it, cloud hosting services like iCloud and Dropbox are being compromised and even photographs from Snapchat have been stolen. It's a hot news. You can use this instance for newsjacking as a business promoting cloud storage services using content marketing.
What is important is the twist you can give to make this newsjacking opportunity (no, I'm not saying taking advantage of people's misfortunes) totally contextual to your own business. You can give a brief description of what's going on and then explain to your users what measures you are taking to ensure that your servers are never hacked and the information people have stored over there is completely secure and safe. You can also create a tutorial about how people should keep information stored on their mobile phones, tablets and computers safe. If a major email service is hacked, you can advise your visitors on how to create stronger passwords.
Recently there were rumours in the US that the Federal Reserve Bank may increase interest rates by spring 2015. There was lots of buzz around this news. I saw a good newsjacking opportunity in this for a real estate website selling and renting real estate in Jacksonville Florida I regularly write for. Recently I wrote a blog post for them explaining how, if interest rates are revised or raised, it is going to have an impact on the real estate market.
What is the way to use newsjacking for content marketing regularly?
What newsjacking does is, render a sense of relevancy to your content marketing efforts. But it depends on how creative you can be. Yes, you can use newsjacking to your content marketing advantage as often as you can, but don't turn your website into a random news website because that is not your intention. The breaking news has got to do something with your business. You need to give it a twist in such a manner that people should be reading about the news with a new angle. If you overdo newsjacking people will see through and after a while they will get disinterested and even disenchanted. The connection between the news and your business needs to be genuine. Don't worry, if you pay close attention to news, you will get plenty of material you can write about from the perspective of your business.
What is the benefit of using newsjacking for content marketing?
Take for instance the recent landing of a space probe on the Comet 67P/Churyumov-Gerasimenko. What a feat for space science! When I checked Google Trends (even at the time of updating this blog post) the news was trending at the top. Millions wanted to know what's going on. People are constantly sharing updates and the search engines are constantly looking for new content that they can throw up for related terms. What is the manner in which your business can use this event as a newsjacking opportunity? Well, if you were a commercial space agency using this for newsjacking wouldn't be easy. But what if you are a graphic design agency? You can create a beautiful infographic chronicling the major events in the life of the Rosetta spacecraft. What if you are a restaurant? Create a dedicated theme menu and post photographs on Instagram and Pinterest.
As I have mentioned above, whenever some major event takes place people want to read about it. They search about it on search engines and social networking websites. They will look it up on Facebook and Twitter. They would like to see what people are writing on Tumblr and what photographs they are posting on Pinterest. They will share the links with each other. There is a sudden interest in the topic and the recently published content on this topic begins to surface at the top in various search results. This can give you instant leverage.
Other than this, there is always something interesting happening in the world so if you have problem coming up with interesting topics to write about this can give you a steady flow of topics that are already quite popular. So what is required to make proper use of newsjacking? An active interest in the things happening around you.