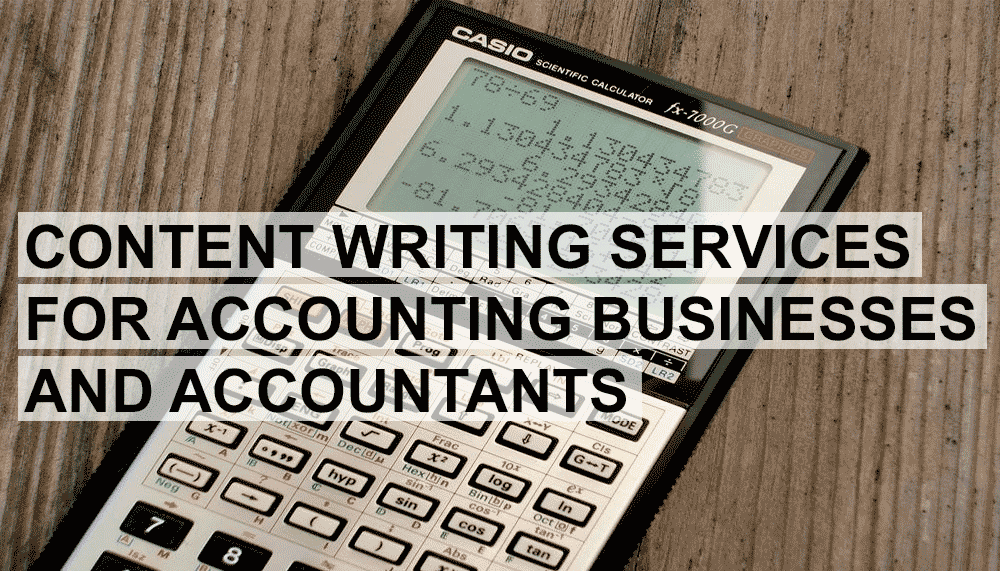 Are you looking for an experienced and trained content writer for your accounting business? Credible Content Writing Services provides writing services to individual accountants and bookkeeping companies on an ongoing basis.
Whether you are an independent accountant seeking to build your brand through high-quality content or a group of accountants providing your services through an accounting firm, Credible Content can provide you the following services:
Website content for your website
Informative articles to educate your clients
SEO articles to improve your search engine rankings
Accounting company or business profile for networking websites like LinkedIn
Reference material
Information about your different accounting services
Email marketing newsletter content
Case studies writing service
White paper writing service
Ongoing blog content

How can our content writing services help your accounting business?
For accounting businesses and individual accountants, the stakes are very high. Bookkeeping is a service based on trust and confidentiality. Your prospective clients should feel confident about approaching you for handling their finances.
Since your stakes are very high, you need a content writer who understands your accounting and bookkeeping business and then explains the intricacies in a language that can be easily understood by your prospective clients.
The competition is tough on the Internet. There are thousands of accounting and bookkeeping services being provided by highly professional accountants and bookkeepers.
Many businesses prefer to use accounting software rather than professional accountants.
Therefore, you are not just competing with your fellow accountants and bookkeepers, you are also competing with highly complicated software applications that can work with almost zero scope for human error.
If ever high-quality content was needed by accountants and accounting firms, it is now.
You need a formidable presence on the Internet.
Even if you don't provide online accounting services, your website is the first destination when people want to know more about you and your services. You want to sound convincing when people read about your various services. You want to sound knowledgeable and experienced. You want to put forth a professional image for yourself and your business.
If the writing on your website is not convincing, people are going to go elsewhere.
Even when people don't know about you and are simply looking for professional accountants and accounting agencies, they Google for what they need. Do you have good rankings for the keywords and search terms that matter to your business?
As an experienced content writing service providing highly trained content writers to a diverse selection of businesses, we know what problems you face when you promote your business online.
The following will happen when we write content for you:
Improve organic search engine rankings
Better conversion rate on your website
More incoming links due to useful, informative content that you will be able to publish
Better response on social media and social networking websites
Highly useful and informative content on your website that solves people's problems
Better conversion rate for your email newsletters
More subscribers for your mailing list
More recommendations from your existing clients

Why it makes sense to hire a web content writer for your accounting agency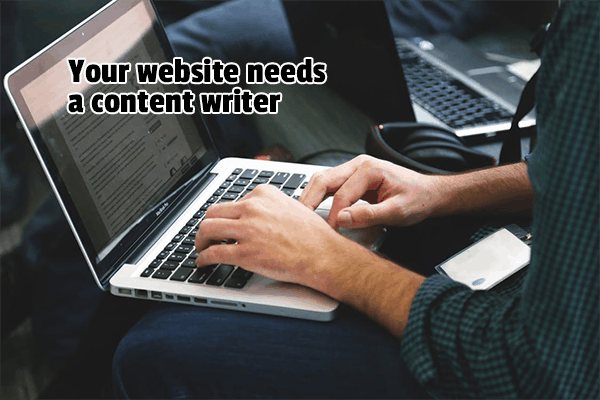 You are an accountant, not a writer.
Even if you have better writing skills than another accountant, writing is not your profession. You can write a web page. Maybe you can write all the web pages for your website. Or maybe you can ask your secretary to write all the web pages for you.
The problem is, you aren't going to improve your search engine rankings and your conversion rate simply by having a website. You need to publish content on an ongoing basis to get good search engine rankings. You need to build an audience that trusts you. This cannot happen by publishing 10-15 web pages.
Most probably you found this web page while searching for a content writer for your accounting business. Similarly, wouldn't you like your prospective clients to find your accounting business for their particular business?
What if you want someone running a restaurant find your accounting website? If you are an accountant looking for clients running restaurants, wouldn't you like to be found by these people? Are you being found?
What if your prospective clients trust your competitor more because he or she constantly keeps in touch with them?
Content is useful when it is published regularly. For this you need a professional writer who writes for the living and doesn't run out of ideas.
If you want to remain in the reckoning, you need to publish high-quality content on an ongoing basis. Simply having a website doesn't help you much simply because, everybody has a website these days.

Why outsource your content writing requirements?
The same logic as above applies. You are in the business of providing accounting services. You are an accountant. Most of the people employed at your place are good with numbers and not with words.
If you employ someone full-time, you are an accountant, you know what all costs will be involved.
Outsourcing your content writing requirements saves you all those extra costs that are needed when you employ someone full time. When you outsource, you pay just for the content, nothing else. No hardware expense. No legal services. No insurance, no wear-and-tear.
And the best part is, you can change your content writer or the entire content writing service if you are not happy with the service, in a jiffy. All you have to do is, find someone else.
When you decide to work with Credible Content and expert web content writer will be assigned to you. Every web writer needs some time to adjust his or her writing style according to your requirement, but once he or she gets into the flow, not much input will be required from your side. We will enable research the right keywords for you and then create content around those keywords. You will just be reaping the benefits.
Whether you yourself are in the business of providing accounting services or you promote and sell accounting software, our content writing services can give you the needed edge by communicating to people how you can help them
Keep their financial records straight and achieve a higher level of accuracy
Eliminate the need to hire an expensive accountant or bookkeeper (in case you sell accounting software)
Attain financial freedom and avoid financial disaster (in case you are into accounting business)
Get rid of worries for the timely calculations of their tax returns and avoid penalties due to faulty bookkeeping or form submission errors
Remain aware of their exact financial position
Focus on their business rather spending time and effort on something they are not familiar with
And of course, in many more ways.

Why content marketing is better than advertising for your accounting business or accounting software?
Being in the business of accounting and bookkeeping, you must know how much money individuals, companies and businesses have to spend on advertising. You must also know that most of this advertising doesn't pay much.
Then why do people advertise?
It's because old habits are difficult to give up. A known liability is better than an unknown asset.
But at Credible Content we have been providing content marketing services for many years and we know how effective it is compared to advertising.
Content marketing through effective content writing can bring down your advertising costs and improve your conversion rate. If you're an accountant or a company selling accounting software you can altogether stop advertising and totally focus on content marketing.
Want to know how?