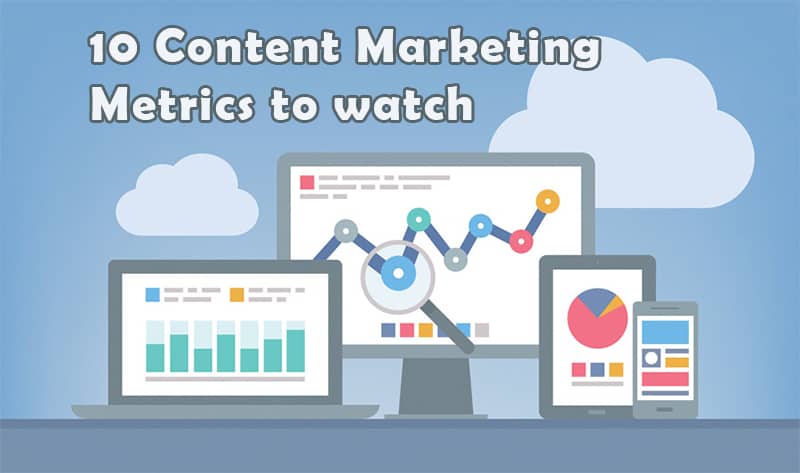 It's been now a few years since content marketing went mainstream. People no longer wonder what content marketing is although a majority of business owners, entrepreneurs and companies still have doubts regarding how it exactly works for businesses and companies that vouch for it. The problem with content marketing is most of the buzz in its favour is created by people who themselves are content marketers. There are few non-content-marketing companies that put forward case studies to show how it has impacted their businesses in a positive manner and improved their bottom lines. This is also because content marketing is also a relatively new phenomena (in terms of using it on the Internet, otherwise it has existed for centuries).
Why is it important to know the content marketing success metrics?

Because unless we know them, how do we know what works and what doesn't work? Success stories of many businesses have proven repeatedly that content marketing is working for them, but it is not a copy/paste technique because every business is unique. If you want to use content marketing, you have to use according to the needs of your own business and according to the needs of your customers and clients. There are different dynamics involved. The metric that works for business "A" might not work for business "B" and vice-a-versa. But of course, there are some standard metrics that can be observed and monitored in order to know how well your content marketing is working, and some of these metrics are listed below.
Metrics that tell you that your content marketing is benefiting your business

The increase in traffic for the targeted keywords: Most of my content marketing and content writing clients approach me for this purpose – they want to increase search engine traffic for their targeted keywords. How many of these keyword-centric visitors actually turn into paying customers and clients is another issue, but if you see that since the beginning of your content marketing campaign your targeted search engine traffic has increased, it means your content marketing is working.
The amount of time people spend on your website or blog is increasing: The more they stay on your website or blog the more they buy from you. This maxim works for every website. If people are spending more time on your website it means your content marketing is working.
Your bounce rate is coming down:
Bounce rate means people leave your website immediately after coming to the page or blog post they landed on without checking out the other pages or block posts. The success indicator of your content marketing is that your bounce rate reduces and people tend to not just stay longer on your website but also go through other sections.
The number of unique visitors is increasing: If your content marketing is drawing people from various sources it means your presence on the Internet is being recognised and gaining traction.
The number of repeat visitors is increasing: People repeatedly come to your website when they find something valuable, whether it is your content or the products and services they are looking for. Again, the more they come to your website, the greater is the chance that they end up becoming your customers and clients.
Your email subscribers are increasing: Your mailing list is one of the most valuable marketing assets you have. It takes lots of effort to make people sign up for your regular updates and if your signups are increasing, it means people value your content and would like to repeatedly hear from you.
The number of inbound links is increasing: There are 2 reasons your website and blog need inbound links – to get diversified but targeted traffic and to increase your search engine rankings. When more people link to you it means they can easily find your content because unless they come to your content directly or via another source, they cannot link to it. If more reputed blogs and websites are linking to you your content marketing is yielding results.
More people are sharing your content on social media and social networking websites: Again, 2 things are happening – people are easily able to find your content and they consider your content valuable and useful. In terms of marketing, it is easier to publish valuable content but difficult to make it findable. This happens with strategic marketing. When people are finding your content links through other resources (not directly from you) and then they are sharing your links under their own social media and social networking profiles, this is a very healthy content marketing metrics although you may not realise how it brings direct business to you.
The number of leads are increasing: Your content marketing effort is showing results if the number of leads that you generate during a particular period is increasing. Surely you have some mechanism in place that tracks how many leads your website generates per week or per month. If you are observing an increase in the number of people showing direct interest in doing business with you after the initiation of your content marketing campaign, you're getting positive results.
Your business is increasing: Your revenue has increased. You are making more sales. You are getting more clients. Your customers and clients are referring more customers and clients to your business. If you have been running a content marketing campaign and nothing else and you can see these results, it is one of the strongest metrics.
Please keep in mind that sometimes metrics can be misleading. If suddenly you see a spike in traffic you may believe that your content marketing efforts are working wonders but unless the traffic turns into business, you cannot rest assured of the efficacy of your content marketing efforts. This is why you need to analyse constantly. If you are getting traffic, what sort of traffic your content marketing is generating? Are you getting search engine traffic for the right keywords? Is your brand getting known for the right reasons? Are people lingering on your website for the right reasons?
Nevertheless, these 10 content marketing metrics can keep you focused.