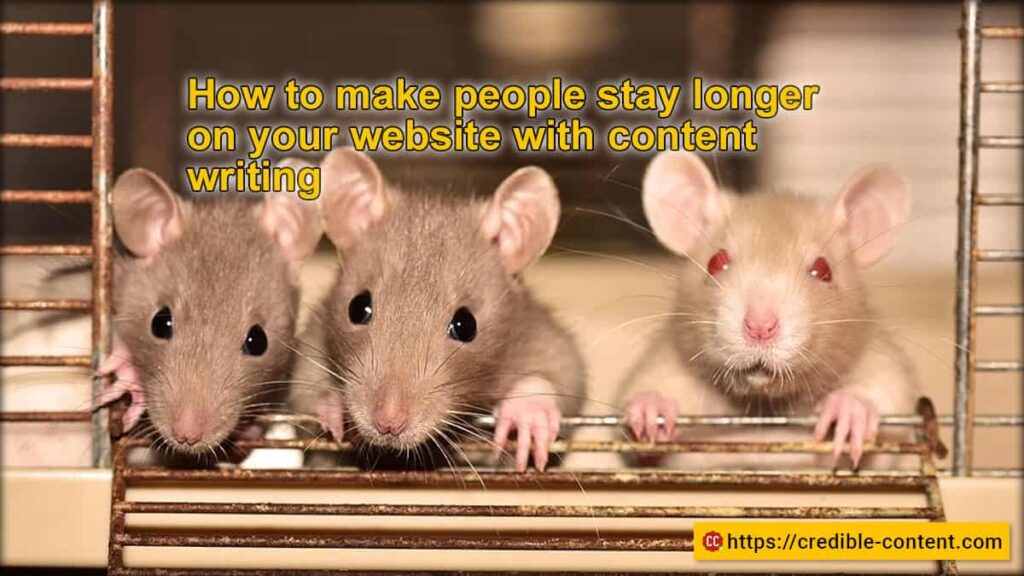 It is important that when visitors come to your website, they spend longest possible time there. This is important for lowering your bounce rate as well as increasing your conversion rate.
Studies have shown that the longer people stay on your website, the greater are the chances of them becoming your paid customers and clients. This is because they become familiar with your presence and grow comfortable with what you represent.
In different forms I have explained on my website how to lower your bounce rate, which means, how to keep people on your website longer. How long people stay on your website or how fast they leave your website, is a reflection on the quality and relevance of your content. The quality and relevance of your content and your lower bounce rate go hand-in-hand.
It's very easy to bring people to your website. Any SEO company or content marketing company can help you with bringing as many people as possible to your website. The real feat is turning those people into paying customers and clients. The content that you have published on your website accomplishes that, or must accomplish that.
The fact that people stay on your website, explore various sections, and go through your web pages, means that they are interested in your proposition. Here are a few things you can do to keep people longer on your website through your content.
Provide definitive answers to definitive questions
Your bounce rate will be higher if people feel that they have been misled into visiting your website. Suppose they come across your link on Google, click the link, come to your website, and then, after feeling dissatisfied, leave within a few seconds. Why does this happen?
Take your own example. You are moving through an arcade of shops and there is a gripping banner offering you something that you have been looking for, for ages. With great excitement you enter the shop but to your dismay, it's nothing like that. They are offering something completely different. Something that you don't need. Disappointed, you come out of the shop. If possible, you may also give it a negative rating if it is listed somewhere.
Exactly this happens when people come to your website through a link they have found somewhere, expecting something, and then not finding it. They immediate leave your website. This is neither good for your conversion rate, nor for your search engine rankings.
All this while Google is quietly observing how people are reacting to the search results its algorithm is throwing up. If the search results don't come up with the right answers, its performance deteriorates. In retaliation, it takes it out on you. It lowers your rankings.
Hence, when you are publishing content, make sure you are delivering exactly what is being displayed in the title and in the headline. Stick to the point.
Internally link to other web pages and blog posts
Even if somehow, your visitors are unable to find what they're looking for, maybe they will find some useful information on another link within your website. For example, when writing about SEO content writing, I may have also written about SEO copywriting. Since you are searching for SEO copywriting, but you enter my website through something related to a SEO content writing, you might as well check the SEO copywriting link too, just in case. This increases your chances of staying on my website longer.
Make your content easier to read
Despite finding something valuable, just because you have grabbed everything in a single, large paragraph, your business may get frustrated and leave your website in a hurry, without reading the entire web page or blog post.
Use shorter paragraphs. They are also convenient to read on mobile phones. They also help your readers focus on singular thoughts. Don't try to express a lot within a single paragraph. Whenever there is an excuse to create a new paragraph, create a new paragraph.
Use headings, subheadings, and bulleted points to succinctly explain complicated topics. This also makes your content easily scannable. Without reading the whole thing, if people simply go through your headings, subheadings, and bulleted points, they should be able to understand what you're trying to say.
Use relevant and attractive images
Although images are not a part of content writing, they can keep people on your website for a bit longer because even if they are not reading the text, they may like to go through the images, and this increases the time they spend on your website. Even if it doesn't help you with your conversion rate, it may send a signal to Google that you are providing good content and as a result, your search engine rankings may improve.
Use conversational style of writing
Everyone likes being talked to. Have a conversation with your readers. Use lots of "you" and "me" and "I".
The good thing about writing in a conversational style is that you write as you speak. You use smaller, direct sentences and expressions. You don't sound pretentious. Even you yourself feel as if you are in a positive flow of and this reflects through your choice of words and phrases.
Tell stories
Just like people like being talked to, they also love reading stories. This is because it is easier to relate to the characters in a story, whether they are anthropomorphic animals or human beings.
Stories also provide ready-made templates. For example, if a character is going through certain circumstances, one or the other reader too has gone through somewhat similar circumstances.
If I tell you the story of Peter who was reluctant to use content writing to improve his search engine rankings and due to that, he went through extreme hardships. It was almost too late when he decided to give quality content writing a chance, and that too, cynically and reluctantly. But then, he was swept off his feet when he began to experience the results after four months and by the seventh month, his business had taken a U-turn.
In the story you learn that just like you, there is a person Peter who doesn't understand the power of quality content. He cannot figure somehow that content writing can improve his SEO. When he has tried everything, in the end, before completely giving up, he decides to give content writing a try. The story also tells you that the results aren't immediate. In four months his search engine rankings begin to improve and by the seventh month, the fortunes of his business had completely changed.
Hence, these are some solid ways you can use content writing to keep people on your website for longer. Keeping your visitors on your website for a few minutes isn't as easy as it sounds. As I have mentioned in the beginning of the blog post, it's quite easy to bring people to your website. Simple SEO hacks can achieve that for you. What's important is, for how long people stay on your website and how many of them convert due to that.