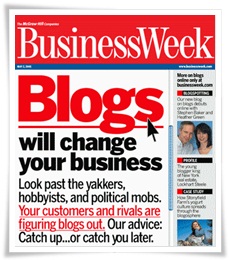 Do you publish a small business blog? As a small business if you don't have a blog you are losing out on many aspects of online marketing, SEO and social engagement.
Having a small business blog has many advantages. Small businesses normally don't have big marketing budgets and they have to depend on individual effort in order to survive and thrive. Blogging kills multiple birds (I don't endorse killing of birds for entertainment and leisure purposes, in fact I loathe such acts) with a single stone. Once you have set up a small business blog and accumulated some high-quality blog posts
Your website begins to rank higher on various search engines
Search engines index and rank greater number of pages and blog posts from your website
Your overall keyword density improves
You have useful content to share on your social media and social networking profiles
Your followers and friends get more opportunities to promote your links as you publish fresh content regularly
You establish yourself as an authority due to the expertise you constantly share through your small business blog
Search engines and social media websites begin to regard you as an authority and hence attach more importance to your content
You engage your visitors in meaningful conversations and hence improve your recognition and identity and consequently, strengthen your brand
Having a small business blog is easy
You can either set up a business blog under your existing domain name (something like http://yourwebsite.com/blog) or you can have a separate domain name for your blog and put your main website link there. Although there are many free blog hosting services that you can use; I recommend using WordPress for your small business blog because it gives you full control over your blog in terms of layout and content. Besides, you can freely download it and install it on your server. This is more important especially now when online services are randomly shut down by even reputed companies like Google..
Provided you already have a website and you want to host a small business blog under your existing domain name, it doesn't cost you much. You can either do it on your own, or you can hire somebody who is comfortable installing WordPress blogs. The benefit of hiring someone experienced is that within a couple of hours you are ready to go.
Maintaining a small business blog demands some time and investment
Of course as a business tool a small business blog cannot be 100% free. Either you yourself will have to create content or you'll need to hire a content writer for that. Initially, in the fit of enthusiasm you can create a few well-written blog posts but eventually you will need to look out for an experienced content writer who can take over your blog and make sure it always has fresh, relevant and useful content.
Rather than quantity focus on quality
For your small business blog it is very important you don't get swayed by the keyword hoopla and focus on the broad quality of your content. Getting 100s of keyword-centric blog posts may get you lots of traffic, but if that traffic doesn't convert into business, you are simply wasting your money and effort. Instead, invest on high-quality content that not only ranks higher on search engines and performs better on social media and social networking websites, but also improves your conversion rate.
Besides, these days you can be penalized by search engines like Google for over-using your keywords. So use your keywords whenever they are necessary and don't needlessly stuff them. Even your content writer must know that. Sometimes people indulge in keyword stuffing unknowingly and if your content writer is doing that, you will need to remind him or her not to do it.
Does having a small business blog actually help you?
It depends on what you're looking for. If you think your small business blog will immediately increase your business, it may not happen. It is a publishing platform. It helps you build a communication tool that can help you in whichever way you want. There is traffic, and then there is targeted traffic. Targeted traffic to your small business blog will always have a greater conversion rate compared to non-targeted traffic.
The success of your small business blog also hinges upon your clarity of purpose. Do you want to build an audience that will eventually turn into your customers, or do you want to straightaway sell your products and services via your blog posts? To be frank, whether it makes sense or not, on the Internet people are turned off if you are directly trying to sell them. Of course everybody understands that eventually you need to make a living, and nobody resents that. But if you are providing quality content, just provide quality content through your small business blog. Don't try to trick people into buying your product or service just because they have come to your blog to read your blog posts.
Yes, your small business blog can increase your business. Use it to increase the level of credibility. Use it to develop a strong readership base. Encourage people to subscribe to your e-mail updates and try to engage them as much as possible. Remember that it is the level of engagement and recognition that will eventually encourages them to do business with you, and this you can be easily achieve by publishing a regular small business blog.